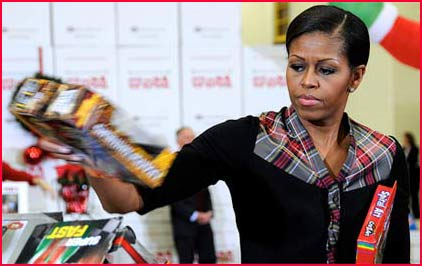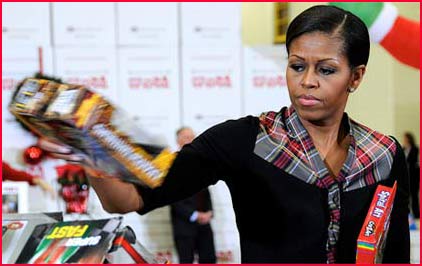 With elections coming up, it seems like people would have enough to do, in evaluating the current and potential presidents. Still, many appear to spend more energy concentrating on the activities of the president's wife and her program to end childhood obesity. Everything gets reported on; for instance, the "kids' state dinner" hosted by Michelle Obama and the White House. The event was attended by 54 children, each with an accompanying family member. They are the winning junior chefs, chosen from among more than 1,000 entries designed to prove that food can be both healthfully nutritious and deliciously fun.
Sometimes it is useful to take a step back and look at the underlying issues for a moment. How much does any of this matter? Quite a lot, as it turns out. Patch.com, in a piece called, "Childhood Obesity is Reaching Epidemic Proportions Nationally," quotes St. Louis case worker Shelby Schroeder:
At this point the CDC says obesity is an epidemic. In the last couple of decades, obesity has tripled for children and doubled for adults. The current statistics are one in three children are overweight or obese.
All across America, on any given day, health care professionals quote those same dismal figures to reporters. So, does this mean that the First Lady's efforts have been in vain? The most generous assessment is that it may simply be to soon to tell.
At the most elemental level, weight fluctuations depend on a lot of variables. Layers of psychological and emotional factors are involved too. When children are presented with information or ideas, they don't always put them to use in a timely manner. Sometimes the benefit shows up years later — after the administration whose policies the child is affected by has long been out of office.
In the area of evaluating the effects of Michelle Obama's Let's Move! program, Bridget Huber is second to none. Her extremely thorough and detailed article for The Nation harks back to the spring of 2010 when, just after the program's debut, Mrs. Obama called upon the Grocery Manufacturers Association to become more active:
The speech was a thrilling display of Mrs. Obama's mettle and a watershed moment, raising expectations among health advocates. Marion Nestle, professor of nutrition, public health and food studies at New York University and a tough critic of Big Food, put it this way: 'It was a knockout. An absolute knockout.'
But the consensus seems to be that things went downhill from there. Looking into every aspect, Huber explains why disappointment lies thick on the landscape. Yes, there was progress in school lunch reform, and much attention has been focused on the importance of food issues in general. But, Huber notes:
The administration […] remained mute during a bitter fight to limit junk-food marketing to kids. It has also forged controversial — some say compromising — partnerships with food manufacturers…
Should the food industry be approached as a potential collaborator or should it be suspiciously avoided? This is recognized as one of the major questions in the effort to end childhood obesity. The relative lack of identifiable success is not due to any deficiency on Michelle Obama's part, and Huber credits her for being "charismatic and glowingly fit," as well as a convincing speaker. It's just that, beyond the power of persuasion, the First Lady doesn't really have any authority:
… [T]he best of intentions appear to be mired in the unhappy realities of American politics… While she's brought tremendous attention to obesity and healthy living, she doesn't have the power to make the regulatory changes that public health experts say are key… Let's Move may well have done all the moving it can.
Your responses and feedback are welcome!
Source: "First lady hosts kids at lunchtime 'state dinner'," USATODAY.com, 8/20/2012
Source: "Childhood Obesity is Reaching Epidemic Proportions Nationally: Part I," Patch.com (Ladue-Frontenac, MO), 08/28/12
Source: "Michelle Obama's Moves," The Nation, 10/29/12
Image by Official U.S. Navy Imagery.