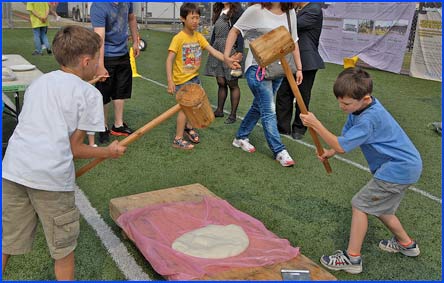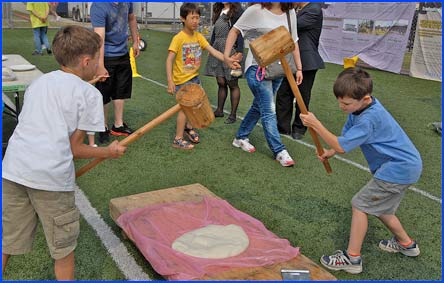 The Robert Wood Johnson Foundation, one of the major proponents of reducing childhood obesity, has issued a two-page progress report (PDF download) on American states where the situation has improved and their beliefs about why.
Philadelphia has seen 20 years of effort by its Food Trust to promote the availability of fresh foods in small neighborhood stores and encourage the establishment of more supermarkets in areas where they are needed. The city has also concentrated on making connections between schools and farms, and facilitating the acceptance of food stamps by farmers markets. In the mid-2000s, the report says, the city began making stronger efforts to ensure that nutritional standards in schools were improved.
In New York City, the RWJF says:
New York City requires chain restaurants to post calorie information on menus and licensed day care centers to offer daily physical activity, limit screen time, and set nutrition standards. During the past 10 years, the city established active design guidelines for architects and planners and created the Green Cart and Healthy Bucks initiatives to help lower-income families buy local produce.
Mississippi began to deal with the inadequacy of school vending machines in 2006. The following year, the Healthy Students Act reinforced this by improving the school food and beverage offerings even more, and enacting rules for more physical activity.
Additionally:
Starting in 2008, Mississippi's Childcare Licensure Division helped facilitate the Color Me Healthy program and training classes to create a healthier environment in childcare centers. Mississippi's Fruits and Veggies — More Matters program reached more than 15,000 residents in 2009 through worksite wellness programs, health fairs, and school events.
California paid legislative attention to school snacks starting in 2007, and banned soda pop and other sugar-sweetened drinks from schools in 2009, which seems to have resulted in the state's students taking in 158 fewer calories per day than kids in some other states, a difference which adds up over time. California also encourages its cities to make it easier for kids to walk or bike to school.
California journalist Melissa Healy raises the question of how much childhood obesity damage might be reversible, citing a meta-study that hashed over the results of 63 previous research projects. Obese kids have unhealthy cholesterol levels and other disorders of the metabolism, high blood pressure, and thickened heart muscles. Healy wonders:
If a chubby child's bad cholesterol numbers revert to normal as she grows up and slims down, does she retain a greater-than-normal likelihood of developing cardiovascular disease? Will the abnormally thickened heart muscle of an obese, sedentary boy correct itself if he becomes a veggie-chomping gym rat, or will it always threaten him with the prospect of chest pain, shortness of breath and sudden death?
She also quotes an editorial that originates at the Institute of Child Health in London, which makes some worrisome points, though in much more formal language. One reason why the public's attention might be difficult to maintain is the "long latency" of the constellation of childhood obesity issues. For instance, a policy like removing sugar-sweetened beverages from schools could take two or three years to show any real results. The authors also employ elegant British terminology to mention the "ennui borne out of a repetition of problems without answers," a phenomenon that Americans might call childhood obesity burnout.
Your responses and feedback are welcome!
Source: "Declining Childhood Obesity Rates: Where Are We Seeing the Most Progress?," Robert Wood Johnson Foundation, 09/12
Source: "Childhood obesity like climate change: Outlook is up in the air," LA Times, 09/26/12
Image by USAG – Humphreys.