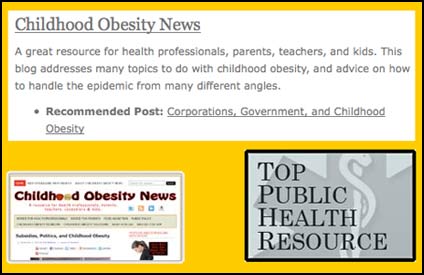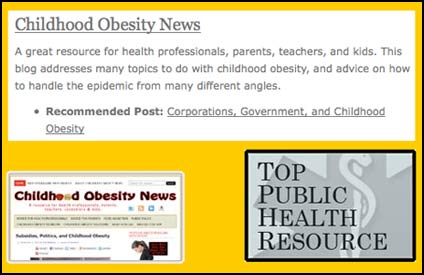 Childhood Obesity News is honored to be recognized by MasterofPublicHealth.org, a website for health professionals, prospective professionals, and other interested parties, which recently published its list of "100 Essential Online Public Health Resources."
As it turns out, MasterofPublicHealth.org puts out some impressive pages, too. We like the one that gives information about how to make a difference locally, nationally, and globally, starting right now.
The post of ours that they especially recommend is "The Corporations, the Government, and Childhood Obesity." Childhood Obesity News checked into the numbers to see which posts our readers seem particularly fond of, and learned that one of the most popular ones is another politically oriented essay, "Government's Role in Childhood Obesity."
In the political realm, our reflections on Sarah Palin found an audience. Plus, there is a whole series of posts considering various aspects of Michelle Obama's efforts to stem the tide of childhood obesity in America. Just enter "Let's Move!" in our search box.
Two of Dr. Pretlow's posts, "Medical Science and Food Addiction" and "Childhood Obesity Conflicts of Interest" are perennial favorites. Also, quite a few people were attracted by Part 3 of "Killing the Childhood Obesity Messengers," which of course goes much better if Parts 1 and 2 are included in the day's reading. As one would expect, that title comes from the old legend about a ruler who was so cruel, if anyone brought him bad news, that messenger would be put to death. We look at some of the objections to various public service campaigns and other endeavors that have been trying to wake up the public.
Another piece that captured the public fancy was about a young girl's very popular blog on food-related subjects. Sesame Street's Cookie Monster attracted attention, and so did posts about the struggles of Oprah Winfrey, Carnie Wilson, and several additional high-profile food addicts.
Other topics of particular interest to the public are artificial sweeteners, the new edition of the Diagnostic and Statistical Manual, the sinister influence of television advertising, what Singapore seems to be doing right, "globesity," the ethnic implications of the childhood obesity epidemic, and the many conflicts of interest that arise when government and industry get too friendly with each other.
We also recommend a series of posts about children and teenagers biking to school. Yes, several of them, because this subject is way more complicated than might be expected. Another subject that has proven to be very popular is Dr. Pretlow's "W8 Loss 2 Go" iPhone App. Start with that page, but there are others that discuss different aspects of this new program, and we will be talking more about the "W8 Loss 2 Go" topic later in the week.
Your responses and feedback are welcome!
Image by Master of Public Health.