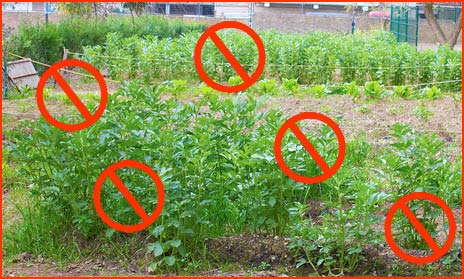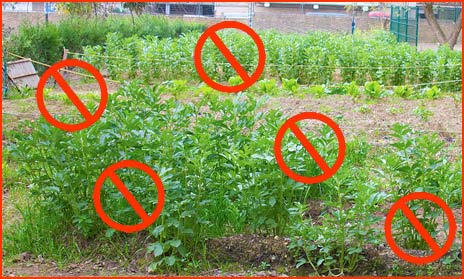 A while back, Childhood Obesity News talked about one offshoot of Mrs. Obama's Let's Move! program — her book. The full title is American Grown: The Story of the White House Kitchen Garden and Gardens Across America. It features community gardens in several states, not as Let's Move! accomplishments, because some of them have been around for quite a while, but as examples of what can be done. There are even a couple of school gardens in the book.
Many people feel that garden-based education is, and can continue to be, a strong positive force in steering children away from potential food addiction and toward optimal health. It certainly can't do any harm.
In a suburb of Los Angeles, the one-acre garden at Hughes Education & Career Center was known for sharing its bounty with neighbors. At the start of the 2011-12 school year, it looked as if the garden must close, which would be disastrous for the members of the horticulture class and a disappointment to a lot of other people. It seemed to have been working fine for 14 years, but the reason given by the principal was that the "program lacked a classroom component."
Journalist Dana Bartholomew interviewed the horticulture class teacher, Art Hanse, who said:
When I was told that no more garden classes would be offered at Hughes, I was concerned for my nearly 20 students. I'm also pleased that our local Hughes principal is working with me on a new way to continue this community garden.
The district administrators were working on a way to have their cake and eat it too, which looked like it might involve conversion into a public community garden. That's what probably happened. There doesn't seem to be a followup story, so we assume they worked it out. But the amazing thing is that such a story ever made news in the first place — which would not have happened without the national emphasis on healthful food.
In the fall of 2010, Childhood Obesity News mentioned Chicago activist LaDonna Redmond:
Redmond convinced the Chicago elementary school system to create a task force to take a look at junk food vending machines in schools, and to think about innovative ideas like connecting farmers with schools. Her efforts helped convince Chicago's mayor that space in the city can and should be used show that food production can be local and sustainable. There are something like 70,000 vacant land parcels in Chicago, and Richard M. Daley got on board with the concept of making his city the greenest urban area in the country.
But look what else was going on at the same time. For the Chicago Tribune, Monica Eng reported on a strange paradox in a story with the self-explanatory title, "Most school garden produce is forbidden fruit in CPS lunchrooms." At least 40 gardens were maintained by public schools, some small, but including an impressive 25-acre farm.
There were even some greenhouses for year-round food growing. The gardens were tended by students, teachers, and volunteers. But the harvests were not allowed through the back doors of Chicago Public Schools cafeterias. Eng says:
Because of rules set by the district and its meal provider, the food is sold or given away. The policies are in place despite the high obesity rate among Illinois children and experts' concerns that young people are eating few fresh vegetables. Meanwhile, studies suggest children eat and accept vegetables much more readily when they have helped grow them.
Somewhere in the complex set of rules created by the school district and a company called Chartwells-Thompson, the commercial supplier of school lunches, there are enough "no's" to keep the food grown by students from being served in the schools where it was grown. The system's career programs in the culinary arts and agricultural science (and hospitality) are headed by celebrity chef David Blackmon, and the journalist asked him about the problem:
He believes he can bring the three disciplines together. Despite current regulations, he hopes to persuade the Chicago High School for Agricultural Sciences and Marshall High School to allow CPS culinary students to incorporate garden produce into special cafeteria offerings during the next school year.
What is it that causes so many bureaucratic snags in the seemingly simple process of growing food and then eating it?
Your responses and feedback are welcome!
Source: "Garden gates may close," LA Daily News, 10/01/11
Source: "Most school garden produce is forbidden fruit in CPS lunchrooms," Chicago Tribune, 10/19/10
Image by Tom Raftery (modified).