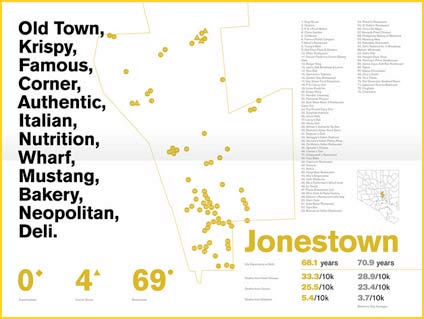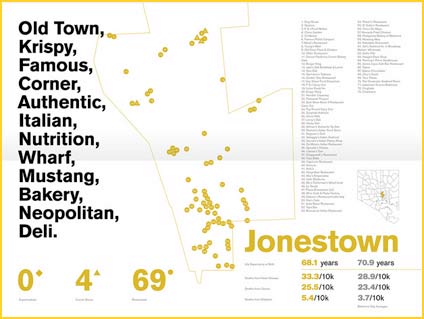 Ever since first lady Michelle Obama introduced the concept of the food desert, there have been grumblings, as Childhood Obesity News noted yesterday. Earlier this year, the grumblings flared up into something of a brushfire when The New York Times published Gina Kolata's article, "Studies Question the Pairing of Food Deserts and Obesity."
Any research worth doing is going to run up against difficulties of methodology. If a study of food outlets in a neighborhood is undertaken, both the researchers and the end users of the research need to agree on the definition of a food outlet. The writer quotes John Weidman of the Philadelphia advocacy group, the Food Trust:
Not all grocery stores are equal.
If any meaningful conclusions are to be drawn about obesity in relation to the availability of fresh, wholesome edibles, the study of food outlets needs to be matched up with data on the obesity levels of the local customers, covering the exact same geographical area. When a small part of a bioregion is scientifically scrutinized, the findings should not be extrapolated to everybody in America. And so on.
Some experts brush aside all other factors and insist that the main thing is a family's distance from its nearest food store, along with the availability of transportation. To Mrs. Obama's credit, she shows awareness of the realities of poverty. In a Chicago speech she said:
If people want to buy a head of lettuce or salad or some fruit for their kid's lunch, they have to take two or three buses, maybe pay for a taxicab, in order to do it.
Kolata says:
Mrs. Obama has made elimination of food deserts an element of her broader campaign against childhood obesity, Let's Move, winning praise from Democrats and even some Republicans, and denunciations from conservative commentators and bloggers who have cited it as yet another example of the nanny state.
The thing that galls some people is that the government shouldn't boss citizens around so much. But others are irritated by the pragmatic aspect. Right or wrong, they say, it's useless. Whether or not someone believes that the government should take action against food deserts, the bottom line is, it does no good anyway, and for that reason alone, it's the wrong action. Kolata quotes Kelly D. Brownell of Yale's Rudd Center for Food Policy and Obesity, who says:
It is always easy to advocate for more grocery stores, but if you are looking for what you hope will change obesity, healthy food access is probably just wishful thinking.
Kolata adds:
Such neighborhoods not only have more fast food restaurants and convenience stores than more affluent ones, but more grocery stores, supermarkets and full-service restaurants, too. And there is no relationship between the type of food being sold in a neighborhood and obesity among its children and adolescents… Despite campaigns to get Americans to exercise more and eat healthier foods, obesity rates have not budged over the past decade, according to recently released federal data.
The reason for this is obvious to Dr. Pretlow:
Based on data from thousands of overweight teens and preteens, who use our website, comfort eating and resulting dependence (addiction) involving highly pleasurable foods is the root cause of childhood obesity. Sedentary activity and lack of knowledge of healthy eating, the conventionally assumed causes, are unlikely causes.
Your responses and feedback are welcome!
Source: "Studies Question the Pairing of Food Deserts and Obesity," The New York Times, 04/18/12
Image by Andy Mangold, used under its Creative Commons license.