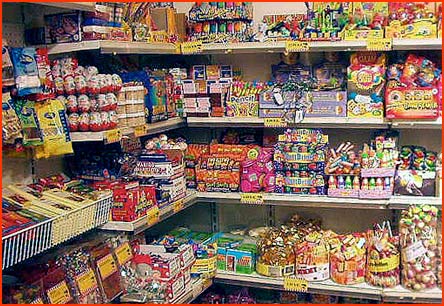 Any day now, in the face of rampant and ever-growing obesity among both children and adults in America, a retail establishment called Sugar and Plumm Purveyors of Yumm will open in New York City's upper West Side. People who live in the area have been doing rude, unwelcoming tricks like putting stickers on the windows, which is technically classified as vandalism. Why are the residents upset? Because the area, in their opinion, already contains too many shops stuffed with tempting and unhealthful treats.
Dakota Debellis and Bob Fredericks interviewed local opponents of the new business, which has been in the process of remodeling its premises for several months. Cory Nangle, who often walks the neighborhood with her two children, told the New York Post reporters:
This was the last way to get to my house without passing some sugar haven.
In their defense, Sugar and Plumm also plans to offer salads. But that does not console the critics who hate the look of the store, including the lollipop door handles. Controversy also swirls around the company Twitter announcements, such as:
Eat a square meal: a box of chocolates.

A balanced diet is chocolate in both hands.

Have you tried our waffle and bacon milkshake yet?
Environmental consultant (and local resident) David Schatsky started a website called, not surprisingly, Stop Sugar and Plumm, which is mostly photos and links, but useful ones. One of his problems with the sweet shoppe is, five mom-and-pop businesses, selling goods and services that people actually needed, were displaced by one huge emporium full of stuff everybody could perfectly well get along without. Schatsky told the New York Post:
I've talked to neighbors who are upset about the childhood obesity epidemic, and it's at the crossroads of lots of schools — a lot of young people go by there.
In fairness, he points out, Sugar and Plumm should not be singled out for vituperation when there are so many other sources of "high-calorie junk" nearby. Though it has made news lately, the opposition to Sugar and Plumm is not of recent origin. Back in December of last year, Leslie Albrecht summarized the state of play in a comprehensive article for DNAinfo. Also not surprisingly, Schatsky was quoted by this source too, though clearly his objections were more aesthetic and political, than health-oriented. In this instance, the reporter quoted Schatsky's reaction when he saw the architect's drawings of the future store:
It reminded me of the malls I went to when I was kid in the suburbs, with fake antique mirrors and candy-colored lighting. It really degrades the quality of life and the whole idea of a walkable hometown feel that we had… [Sugar & Plumm] swept away […] businesses run by average people to replace them with a chain owned by a member of the 1 percent club…
More to the point, Albrecht quotes an anonymous activist known as the Sticker Bandit who called the shoppe a "vat of fat" and a "live version of Candyland that will be pimping corn syrup to the kids."
Does your neighborhood contain too many corn syrup dispensaries and vats of fat? As a parent, is your life a constant battle to keep your kids out of these places? Let's hear from some other locales on this question.
Your responses and feedback are welcome!
Source: "Bitter foes of sweet shoppe," NYPost.com, 08/01/12
Source: "Please Don't Vandalize," StopSugarandPlumm.com, 07/25/12
Source: "Candy Store Plan Sickens Upper West Siders" DNAinfo.com, 12/14/11
Image by Harold Hollingsworth, used under its Creative Commons license.