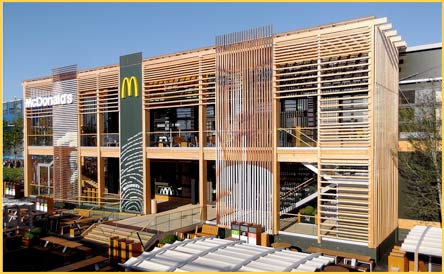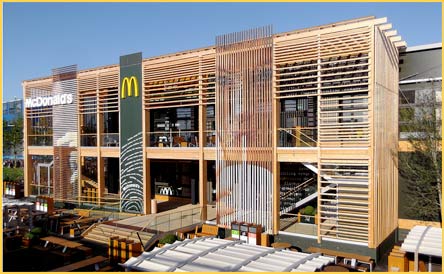 Yesterday, Childhood Obesity News mentioned the negative attention garnered by fast-food corporate sponsorship of the 2012 Olympic Games in London. Britain's Academy of Medical Royal Colleges expressed disapproval, and so did cardiologist Dr. Aseem Malhotra, who said:
The very lucrative financial gain for these athletes is sadly at the expense of our children's health and we shall not allow this to continue.
Several other prominent medical experts and teachers, as well as chef Jamie Oliver, got on board with deprecating the situation in a group letter to The Times. And why not? As Dr. Pretlow points out:
Cigarette companies have been banned as Olympic sponsors for a while, and banning junk food companies from Olympic sponsorship would be a first step in approaching the obesity epidemic in a manner similar to combatting smoking.
The past president of Britain's Royal College of Paediatrics and Child Health (RCPCH), Professor Terence Stephenson, wrote:
The Olympic organizers should seek to renegotiate sponsorship for future games.
Too late! Reportedly, the contracts are already signed through 2020. The current RCPCH president, Dr. Hilary Cass, believes that athletes ought to step up and show some responsibility, using their influence for a better purpose than glamorizing junk food. Journalist Emma Lester writes:
The letter calls on celebrities to think of the physical, social and emotional effects of obesity that the consumption of the products they advertise is causing… The letter acknowledges that celebrity sponsorship deals are worth millions of pounds, but health professionals and teachers urge sporting role models to think about the adverse effect that their endorsements have on the lives of children.
The Children's Food Campaign has gone on record saying these sponsorship deals undermine children's health. This organization also asks an extremely relevant question. Since the junk food makers only supply about 2% of the International Olympic Committee's funding, the exposure given to their products is all out of proportion with the paltry financial contribution. The World Cancer Research Fund is not happy either, stating that children should be protected from unhealthy foods sold with marketing tactics they are not mentally equipped to evaluate.
To hear the situation described with no shortage of attitude by a couple of Her Majesty's subjects, Neville Rigby (convener of the International Obesity Forum) and Amandine Garde, senior lecturer Durham University law school), please enjoy the entire piece of which this is a small sample:
The culture secretary, Jeremy Hunt, remains defensive, claiming that 'without sponsorship we wouldn't have sport'. Really? Without junk-food sponsorship, sport would surely provide a far better example to children of how to live healthier lives.
How was the financing managed in ancient times? In Greece, says Mary Beard of The Guardian:
Some of the most prestigious wreaths of victory went not to the athletes themselves but to men whom we would call 'sponsors.' The grandest event of the Games was the chariot race, but the official winner was not the man who actually did the dangerous work […] but the king, princeling or plutocrat who had funded him and paid for the training…
In the era when Rome ran the Games, a wealthy senator who had been born in Greece built an entire aqueduct to bring water to the Olympic visitors, becoming one of the most appreciated sponsors in history. Beard tells us:
For much of the period of Roman rule, Roman grandees and their friends bankrolled the Olympic enterprise (which seems to have eaten money in the ancient world, too, even without any ridiculously expensive opening ceremonies or security operations). Nero […] subsidized new facilities for athletes, and King Herod is known to have come to the financial rescue of the Olympics in 12BC.
Here is Sandra Stahl's take on what she calls "The Olympic Games' missed PR opportunity":
McDonalds, Coke, and the US Olympic Committee could each handle this situation better from a PR perspective. I also wonder why no company, group of companies, or industry association operating in the healthcare space sees the Olympics as a platform for a powerful, global message about an important health issue…

What if a group of the leading worldwide pharmaceutical companies each diverted a portion, say 5% to 10%, of their annual DTC budgets to a pooled global Olympic sponsorship dedicated to awareness of a worldwide health issue. The PR opportunities are endless, from multiple stakeholder engagement and global media coverage to the overall halo effect that would last well beyond the games.
Your responses and feedback are welcome!
Source: "Doctors condemn Olympic athletes' endorsement of junk food," GPOnline.com, 07/25/12
Source: "Campaigners slam 'unhealthy' Olympic food and drink sponsors," NetDoctor.co.uk, 07/26/12
Source: "Junk food has no place in the Olympic lineup," The Guardian, 07/17/12
Source: "The Olympics – ancient and modern," The Guardian, 06/22/12
Source: "The Olympic Games' missed PR opportunity," PRWeek US, 07/25/12
Image by davehighbury (David Holt), used under its Creative Commons license.