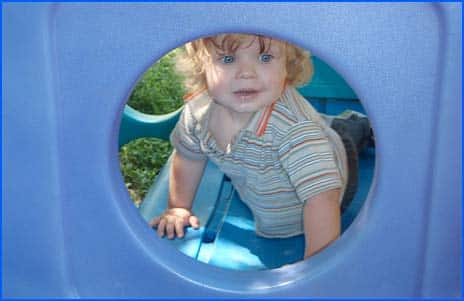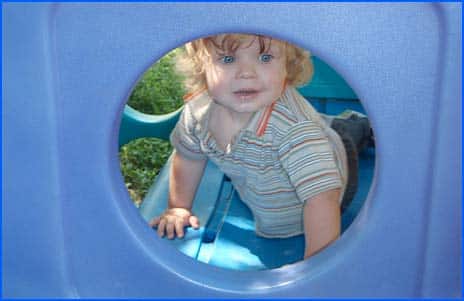 Childhood Obesity News has looked at many angles of the PE-in-schools debate. In some places, they're trying to get more of it, in others, to reduce the amount they already have. And nobody seems able to prove incontrovertibly that it does anything to fight childhood obesity.
Dr. Pretlow believes that each type of program should be evaluated from a particular standpoint: Does it divert attention and resources from the main cause of childhood obesity? The chief reason for the epidemic is the combination of comfort eating and the easy availability of hyperpalatable foods, leading to food addiction. What is the program doing about that?
In many places, activists are trying for more and better playgrounds. But even the existence of playgrounds alone is not a cure, because of the attendant risks. For instance, melanoma. Kids have tender skin, and they forget to use sunblock cream. School playgrounds are notoriously sunny. Public playgrounds and swimming pools are not usually shaded. Kids are getting skin cancer. Science News found one explanation:
Landscaping, typically added last after a new playground is built, is often the first expense to be cut if a project runs over budget. From the perspective of a park or community center manager, trees mean extra work and money, and pool managers don't want trees near the water, for example, because they drop leaves, adding to the difficulty of keeping pools clean.
Salon's Will Doig unearthed this interesting sequence of information concerning normal daily exercise in America:
One study diagrammed the shrinking distances that four generations of one family's kids were allowed to stray from home: six miles in 1919, one mile in 1950, half a mile in 1979, and 300 yards today.
By way of contrast, he mentions Japan where, even today, four out of five kids walk to school without adults, just with their peers. He's talking about children in the 6- to 12-year age group. In America, the end of the "free-range kid" came about largely because of paranoia. The writer contends that "only about 100 kids, out of tens of millions, are kidnapped in public by a stranger each year." He goes on to say:
Crime is at a 40-year low. The percentage of kids fatally hit by cars has been dropping for decades… It says something that we perceive walking down the street to be a greater risk to kids than speeding along in two tons of steel and glass, when in actuality, four-fifths of kids killed by cars are in those cars. No parent, however, is going to be accused of endangering their child by driving them to school, but the parent who lets them walk might be — the fear of being judged by other parents looms large. As does the fear of liability on the part of these schools and cities.
Communities experiment with the "walking school bus," but the National Center for Safe Routes to School is one of the programs whose funding has just shrunk, as a result of the federal transportation bill. Doig says:
The bill cuts the already-tiny fraction of federal funding for bike and pedestrian infrastructure by 30 percent and contains loopholes that allow states to slash that even further. The lack of mainstream concern over this speaks volumes… [T]he issue of more walkable streets remains tellingly hazy on the national radar.
Okay, if kids can't walk to school, how about walking up school, or on school?
For The Atlantic Cities, John Metcalfe recently reported on a competition for urban improvement, where idea suggested by a team of architects from Portugal really stood out. They want to put schools and playgrounds and gyms on top of skyscrapers, and make the students walk up and down the stairs, even if it's 80 stories.
Returning to the liability exposure for schools and other institutions, litigation is no joke. The problem looms just as large in other countries, like Australia, where investigative reporting by The Courier Mail revealed that Queensland schools have been paying out a lot of money for PE-related incidents, including:
[…] playground and sporting field accidents… children injured while doing handstands, running on the school oval and being thrown in a judo demonstration.
Your responses and feedback are welcome!
Source: "Lack of playground shade is a health issue," UPI.com, 07/01/11
Source: "Unleash Our Kids," Salon, 07/21/12
Source: "Wild Idea: Put Schools On Top of New York Skyscrapers," The Atlantic Cities, 03/06/12
Source: "Compensation claim fears cramp students after classmate sues girl over tennis mishap," The Courier Mail, 04/24/12
Image by Annie Mueller, used under its Creative Commons license.