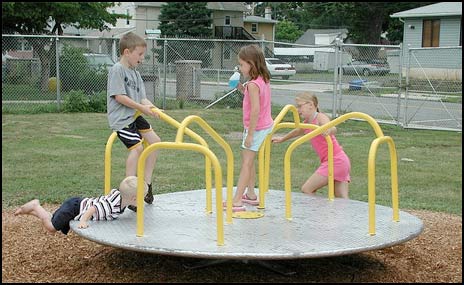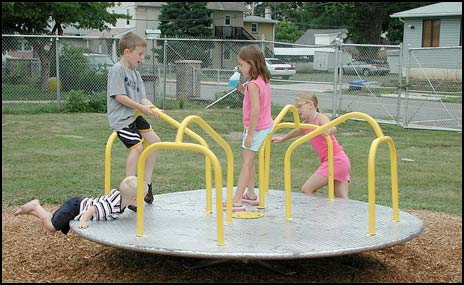 How much exercise should children get on the way to school and in school? These are huge questions, and entire communities have mobilized around controversy over them. Most proponents of physical activity take it for granted that exercise alleviates childhood obesity. Others doubt even that much.
In the August issue of Pediatrics there appears a study from the Dartmouth Institute for Health Policy and Clinical Practice at the Geisel School of Medicine. It concluded that if adolescents would walk or bike to school four or five days per week, the obesity rate in that age group would decrease by 22%. There are so many variables to a proposition like that, to come up with such a figure must take some wild-eyed guessing. An inconvenient detail about that idea is, a lot of kids live a long, long bus ride away from their mega-schools, over roads that are in no way appropriate for biking or hiking.
The same study found that "physical education classes did not change teens' weight." The researchers theorize that maybe gym-class exercise (PDF) is not intense or long-lasting enough to make any difference. Just to put this into perspective, here is a quotation from HealthyAmericans.org:
Nationwide, less than one-third of all children ages 6–17 engage in vigorous activity, defined as at least 20 minutes of physical activity that makes the child sweat and breathe hard. The percentage of children engaging in daily, vigorous physical activity ranged from a low of 17.6 percent in Utah to a high of 38.5 percent in North Carolina.
But the Dartmouth study also found that teens who had played on three or more teams in the past year were "27 less likely to be overweight and 39 percent less likely to be obese compared with their peers who did not play on any teams." A doubter could say, "Well, of course. Team sports are likely to attract and accept kids who are already fit. Where is the news here?"
Another question is, where do these three-team youngsters find the time to do their homework? The study's lead author, Keith Drake, says:
If you really want your kid to maintain a healthy body weight, finding some sports team they'll stick with is the best way to do that.
Yet, Childhood Obesity News recently mentioned another authority, Richard Louv, who has his reasons for saying:
It's important to acknowledge that the greatest increase in child obesity in our history occurred during the same decades as the greatest increase in organized sports for children.
Dueling experts. The field is full of them.
Getting back to Drake, he does emphasize the importance of providing an environment of accessible, inclusive opportunities, where everyone can participate. He is especially anxious to identify activities to attract "fringe kids," those he defines as potentially savable from overweight or obesity. This Drake quotation is worth some thought:
There are individual sports for kids who aren't into team sports. I kind of believe there is an activity out there for every kid. If there isn't, we should make one.
Your responses and feedback are welcome!
Source: "An Antidote to Childhood Obesity?," LifeGoesStrong.com, 07/16/12
Source: "Obesity 2011 Report" (PDF), HealthyAmericans.org
Image by subewel (Eric Lewis), used under its Creative Commons license.