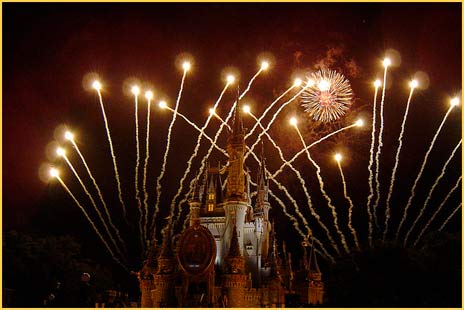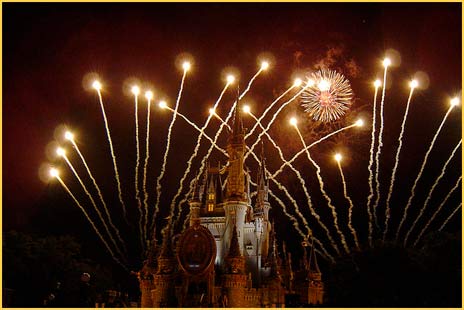 When the Walt Disney Company promised to do better in the matter of curbing its advertising of minimally nutritious foodstuffs to children, in order to help alleviate the childhood obesity epidemic, big questions came up. What will the other mega-corporations do? What should they do? David Vinjamuri of Forbes opines:
They should follow Disney. Why? Any great brand wants loyal lifetime consumers. When a product that the brand makes harms the consumer it's not just bad for the consumer, it's bad for the brand. Brands who refuse to accept this reality and find profitable ways to market to children without degrading their health will travel a tough road in the future.
Soon, there will foods labeled by a logo with mouse ears. This icon is called the "Mickey Check," and Stephanie Hanes of The Christian Science Monitor is somewhat disturbed by the plan. By this means, Disney will be "licensing" food products that will be available in stores, online, and in U.S. Parks and Resorts eating establishments.
In other words, Disney hasn't stopped at making changes to its advertising policy. Hanes is more pleased about the advertising changes than with the new food products, saying:
This is, clearly, an important step. Not just because Disney is getting rid of junk-food marketing, but because of the implicit acknowledgment… that the way companies advertise to children does impact their health.
The director of Yale University's Rudd Center for Food Policy and Obesity also has mental reservations about the "Mickey Check" concept. People just don't trust them anymore, says Kelly Brownell, because so many different kinds of "healthy eating" symbols are scattered all over food packaging everywhere, and a lot of them don't mean zip. It may just add up to a lot more confusion. Still, his first impression was that Disney's nutritional guidelines are "quite good."
Using cartoon characters as spokespersons to sell products, and plastering them all over food packages, are practices that have been criticized for years. Pediatrician Jay Gordon points out an interesting bit of academic investigation showing the effectiveness of junk food ads:
A study from Yale's Rudd Center for Food Policy and Obesity… gave kids identical gummy fruits and other foods — some in packaging depicting Shrek and other popular characters and some in plain packaging — and half of the children said the cartoon-adorned snack actually tasted better than the same snack in a plain package.
In other words, young consumers can be convinced that identical products from different packages have different flavors, some more yummy than others!
Stephanie Hanes interviewed Josh Golin, associate director of the Campaign for a Commercial-Free Childhood, who feels that while Disney's characters are in general positive, he is still concerned about the branding aspect. He suggests that the use of cartoon characters is counterproductive and, even for a worthy purpose, is too sneakily controlling for comfort:
I think it's wrong to take a child's love for the character and leverage that love to get them to buy something. Even if it's a product we think is 'good.' If children don't understand the process of what's happening to them — if they don't understand the way their own love is being commodified and leveraged — that's wrong. It's manipulative.
Disney's restriction of advertising will not become apparent until 2015 because, they say, long-term contracts with advertisers must be fulfilled. Some critics say, "Big whoop — by then, the government will probably step in and insist on the same rules for all corporate advertisers." When The Hollywood Reporter's Lacey Rose interviewed Gary Marsh, president of Disney Channels Worldwide, she elicited a reply that should have stimulated a further question. Marsh, who used to work on political campaigns, said:
What I find interesting is that there's a line in the press that Disney is only giving up $7.2 million. What's laughable about that is that we don't expect to be giving up anything. We expect to be setting a standard so that the community of manufacturers changes how they approach the audience. This isn't an altruistic move on our part.
If the reform is so good for Disney, and if the company doesn't feel that it's giving up anything, then why delay the changes for another several years? Why not take the financial hit, buy out the existing contracts that extend until 2015, and be truly altruistic by making these important changes now?
Your responses and feedback are welcome!
Source: "Disney Rejects Junk Food And Other Brands Should Too," Forbes, 06/06/12
Source: "Disney bans junk food, Mickey Mouse brands health," CSMonitor.com, 06/07/12
Source: "Promoting Nutrition, Disney to Restrict Junk-Food Ads," The New York Times, 05/05/12
Source: "Jay Gordon: Disney's Junk food ad ban doesn't address the real problem," LA Daily News, 06/19/12
Source: "Disney Channel's Gary Marsh on Tabloid Teen Stars, Marvel and the Junk Food Ban (Q&A)," The Hollywood Reporter, 06/21/12
Image by veritasnoctis (Geoffrey Plauche), used under its Creative Commons license.