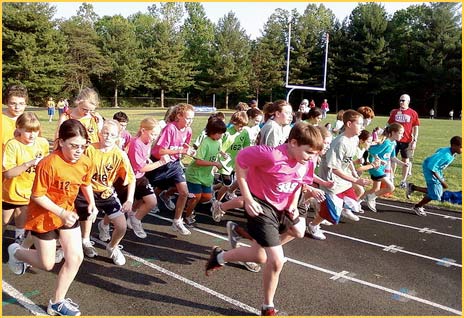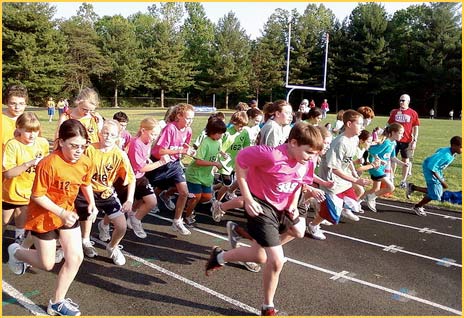 Last time, Childhood Obesity News discussed a Canadian publication called Developing Physical Literacy (a downloadable PDF file) which carries very specific recommendations. It promotes the idea that, just as there is an optimum age for a child to soak up a foreign language, children also have "windows of opportunity" to learn various physical skills, adding up to what the writers of the report call "physical literacy."
Exercise, they maintain, is not only good for the physical organism in many direct ways, but fosters the development of many traits and characteristics, such as confidence. A child gains a psychological advantage and an emotional satisfaction that help guard her or him against falling into unhealthy dependency on hyperpalatable foods, also known as food addiction.
The publication organizes its aims by age group. Between birth and age 6 (and especially during the first three years), the neural pathways of the brain are vulnerable to imprinting, so it's important to lay a good foundation there. Kids need to practice fundamental movements, particularly with rhythmic exercises. They learn to enjoy being active. This is when the child starts to establish gross motor skills, build strong bones and muscles, and develop good posture, balance, and coordination. Happily for parents, physical activity leads to better sleep patterns and thus, according to one theory, to less childhood obesity.
The next age group encompasses girls age 6 to 8 and boys age 6 to 9, and for them the authors emphasize that physical activity must always be enjoyable, a positive experience which they will want to repeat. The trouble with many school PE programs, at least in the past, was the proportion of about 95% ordeal to 5% fun, and that's an optimistic guess. To throw a child into the middle of a competitive sport requiring a lot of skills stifles the chance to develop any skills. A second-grader dropped into a game of kickball, with no idea what's going on, doesn't get any useful exercise, and may develop only one habit — lying to get out of gym class.
These kids should be trying out all kinds of activities all year round, whether on land, on ice or snow, or in water. It's still too early to get serious about training regimens. The operative word is "fun." The literature says:
Skill development for children this age is best achieved through a combination of unstructured play in a safe and challenging environment; and quality instruction from knowledgeable teachers/leaders/coaches in community recreation activities, schools, and minor sport programs. Hand and foot speed can be developed especially well by boys and girls during this stage and if this window of opportunity to develop speed is missed, body speed later in life may be compromised.
The next age group includes kids from 8 or 9 years until puberty, around 11 for girls and around 12 for boys. Now, it's time to concentrate on flexibility, endurance, coordination, fine motor control, and specific sports skills — though not on specific sports. Here's why:
Although many children at this age will have developed a preference for one sport or another, for full athletic development they need to engage in a broad range of activities, playing at least 2-3 different sports.
And what happens if all this advice is not followed? The consequences for children are well known, and the consequences for society's institutions need to be considered too. Some of them are described at length in the section titled "When Children Don't Have Physical Literacy." Here are a few hints:
Schools: When students arrive at secondary school without having developed physical literacy in the earlier grades, physical education teachers spend much time trying to teach movement and sport skills that should already have been learned.

Sport Organizations: Coaches of athletes in the Train to Train, Train to Compete, and even the Train to Win stages of Long-term Athlete Development must spend time working on fundamental movement and fundamental sport skills that their athletes should have mastered much earlier in their lives.

Recreation Programs: Reduced participation and reduced revenues make programs vulnerable, and with many municipalities keeping close watch on expenditures may lead to the closure of programs and even facilities.
The last example is disturbing because the pattern of a downward spiral is easy to see. If kids don't do themselves a favor and participate in recreation programs, the programs can't be sustained, so they close, and pretty soon there are even more kids needing help, and fewer facilities and activities to meet their needs.
Your responses and feedback are welcome!
Source: "Developing Physical Literacy: A Guide For Parents Of Children Ages 0 to 12" (PDF), sasksport.sk.ca
Image by zhurnaly (Marc Zimmermann), used under its Creative Commons license.