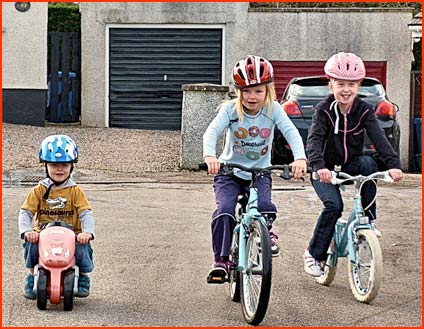 Childhood Obesity News is looking at the idea of kids biking to school, and specifically at incidents in Michigan, where 64 high school seniors were harshly treated (before the judgment was reversed) and New York, where one boy's insistence on riding his bike to school brought the whole town into the debate. But that's nothing compared to Tennessee, where a mother was threatened with charges of child neglect.
The mother is Teresa Tryon, who was publicly censured for allowing her 10-year-old daughter to ride her bike to school, which takes less than 10-minutes via a route that, according to an organization called Bike Walk Tennesee, is "reasonably safe." Beth Buczynski writes:
When pressed, the police department admitted that it wasn't the girl who was breaking the law by riding, but the mother who was breaking the law by allowing her to ride… I applaud [the officer] for his vigilance. It was absolutely appropriate for him to notice the child and make sure that she was following all rules of the road. And upon discovery that the child had permission to be riding alone and was equipped with proper safety equipment, his involvement should have ended… All over the world, city governments are establishing vast bike sharing programs in an effort to get cars off the road. Our nation is choking in a cloud of vehicle emissions, yet a family that would rather do its part to reduce this pollution is accused of neglect.
All that controversy, and the subject of childhood obesity was not even touched on. But the Tryons' difficult relationship with the local authorities has implications that spread far beyond the borders of Elizabethton, TN. All over the country, many parents and health care professionals regard bike-riding as a positive trend that could impact the childhood obesity epidemic. Whether this turns out to be true or not, it would probably be a good idea to remove as many obstacles as possible, just on general principles.
Safety is rightly a huge issue. But some people act as if school buses are heavenly chariots, untouchable by such mundane misfortunes as accidents. Others point out that school buses don't even have seat belts. And even for that seemingly obvious necessity, there are arguments both for and against.
The U.S. Department of Transportation says:
Since 2000, 1,386 people have died in school transportation-related crashes— an average of 139 fatalities per year… Since 2000, 130 school-age pedestrians (younger than 19) have died in school transportation-related crashes. Over two-thirds (67%) were struck by school buses, 6 percent by vehicles functioning as school buses, and 27 percent by other vehicles involved in the crashes.
The government has a program, Safe Routes to School (SRTS) designed to increase the ability of young people to walk or ride their bikes to school, for whatever reason. If it's to exercise their bodies for better health, that's great, and if it's to exercise their rights as free Americans, that's great, too.
In Minnesota, for instance, 89 cities and towns have benefited from this program to the extent of nearly $11 million worth of federal grants. Statewide, over 180 schools participate in a program outlined in a 24-page Department of Health publication that offers "guidelines and strategies" for getting to school safely using active, rather than passive, transportation. The state's Department of Transportation started mandating before-and-after surveys to measure the program's effectiveness, but that was only last year, so the results are not yet tabulated.
Your responses and feedback are welcome!

Source: "Mom Could Be Jailed For Letting Child Bike To School," care2.com, 09/07/11
Source: "Traffic Safety Facts," DOT.gov
Source: "Hundreds of Millions of Tax Dollars," LookTrueNorth.com, 05/04/12
Image by Duncan Brown, used under its Creative Commons license.