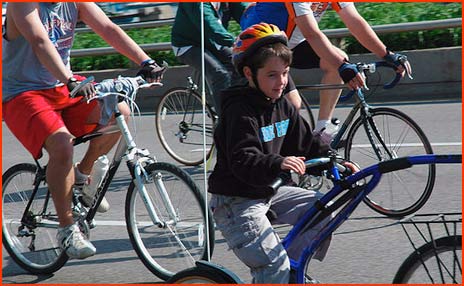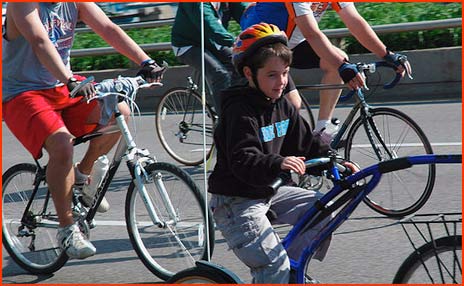 Bicycles, students, and the routes to and from school — those are the three intersecting topics important to anyone who sees increased exercise as a good thing. Whether or not a person is convinced that exercise is the cure for the childhood obesity epidemic, no one disputes the benefits of exercise in general. But when it comes to the specific question of biking to and from school, not everyone agrees.
For Bicycling, David Darlington reported on the astonishing saga of a boy named Adam Marino who rode his bike to school in Saratoga Springs, New York, only to learn that it was against school policy. His activist parents quickly got involved. Actually the story is still ongoing, and so far, it has involved huge numbers of local residents and ridiculous amounts of time and effort. The complications are almost beyond belief, involving not only bureaucratic inertia but plenty of active resistance. Even after this particular school made some grudging adjustments, a parent remarked that kids who bike to school are still made to feel like second-class citizens.
On the other hand, the pro-biking activists attracted commentary from a national political figure:
The peak of political attention occurred in early October, when a letter from Newt Gingrich arrived in the school district's mailbox. "At a time when nearly one-third of American children and teens are overweight or on the brink of obesity, students like Adam who exhibit healthy behavior should not be punished but rather rewarded," the ex-congressman wrote.
Now, what about Grand Rapids, Michigan? At Kenowa Hills High, the graduating seniors traditionally cook up some kind of prank for the last day of school, often involving paint, superglue, or other vandalistic substances and undesirable activities. This year, 64 kids kicked it up a notch and took the senior prank to the next level – a level that involved the police. But don't get the wrong impression. What happened was, they invited the police to accompany them, to assure their safety as they rode their bikes from an agreed-upon gathering point, all the way to school. The police happily provided an escort and even the town's mayor rode along.
Upon their arrival, they were shocked by the principal's astonishing reaction – she suspended the participants on their last day of classes, sent them home, and barred them from the graduation ceremony. (The letter of explanation and apology, from principal Katie Pennington and superintendent Gerald Hopkins can be accessed from this page.)
Naturally, the confrontation became instantly newsworthy. Ken Paulman helpfully posted a series of photos illustrating the route to Kenowa Hills High, which is way out in the middle of nowhere. He writes:
The only way this school could be more inaccessible to bicyclists is if they built a moat around it. And the narrow, two lane roads – with few alternative routes – make it easy to understand why the bicycle parade required a police escort and led to massive traffic backups… Critics of alternative transportation infrastructure often criticize it as "social engineering," but plopping a school into a semi-rural area that's only accessible by car takes away the students' (and parents') ability to decide for themselves how they want to get to school and back.
The distance itself is not the most important issue. If invigorating, calorie-burning exercise is part of the incentive for biking, then the trip to the school is a good healthy ride. But plenty of other questions are up for discussion. Paulman says:
Public sympathy seems to be squarely on the side of the students, which means if there's one thing Americans hate more than cyclists on roadways, it's excessive punishment of high school kids… There are issues of authority and communications here that go beyond the students' chosen mode of transportation that morning.
Your responses and feedback are welcome!

Source: "Why Johnny Can't Ride," Bicycling.com, 04/30/12
Source: "Michigan Principal Punishes Students For Biking To School," care2.com, 05/23/12
Source: "When riding a bike is a 'prank'," MidwestEnergyNews.com, 05/23/12
Image by swanksalot (Seth Anderson), used under its Creative Commons license.