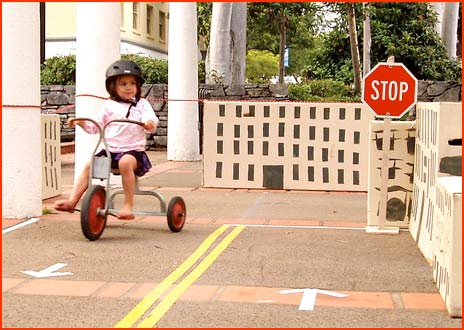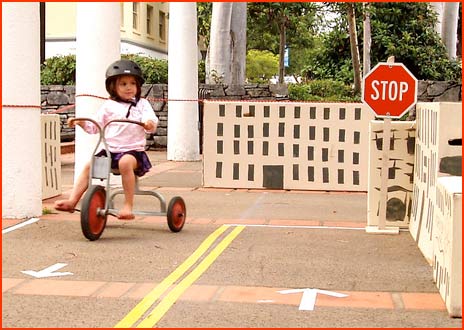 Exercise is a hot topic in the childhood obesity discussion, and one of the major subtopics within it is bicycle riding, and under that, a big subheading concerns riding bikes to school. Some people talk about the danger, but others say "get real", every form of transportation poses some risk of injury. Plus, passive transportation doesn't have a single health benefit associated with it. The government program known as Safe Routes to School (SRTS) is meant to improve neighborhood "walkability," which includes such matters as a complete sidewalk network and safe ways to cross streets at intersections. The program also promotes such innovations as the "walking school bus."
The object is that kids who walk or ride their bikes to school should remain safe, and the main reason why kids are encouraged to use these methods of active transportation is to lessen the overall amount of childhood obesity. So far, the federal government has distributed nearly $1 billion to the states for SRTS improvements. The results vary depending on the location and the feasibility of gathering good statistics. Walking and biking are said to have increased anywhere from 20% to 200%.
Hop into the wayback machine and return to 1969, when 48% of all the school kids in America either walked or rode their bicycles to their places of education. That's nearly half! When the Department of Transportation did another survey in 2009, it found that only 13% of the students were walking or biking to school. There are societal trends that work against the idea.
One problem is the disappearance of neighborhood schools. Increasingly, schools are centralized, located out in the middle of nowhere, like gigantic retail warehouses designed to serve as educational hubs for geographic areas of many, many, square miles. This may be rational and cost-effective in some ways, but it sure doesn't reduce anybody's carbon footprint. Millions of parents are forced to deliver their children to school by car, and then choose to buy them cars. When young people grow old enough to drive, they don't want anyone to think they are too poor or too uncool to have a car. Thousands of school buses crawl through neighborhoods and then sit around at the edges of school campuses, dispensing air pollution. Maybe, just maybe, in some areas, these remote schools can be safely approached by bike, but walking to and from home? Forget it.
Organizations like the International Mountain Bicycling Association team up with the government for occasions like last summer's Let's Move Outside! event, held on the south lawn of the White House, where 50 high school students had the chance to sample not only mountain biking but climbing, kayacking, disk golf, and fly fishing.
Many communities have bike clubs, of which PedNet of Columbia, Missouri is an example. Journalist Catherine Martin asked for details from the organization's education coordinator Gina Overshiner, who explained:
We have a narrow view of biking in America, and we don't understand how it's used around the world and in other cultures. This will help kids become safe and more skilled bicyclists and learn about bikes around the world … and realize you don't have to rely solely on cars … .and see that bikes aren't just toys.
The education is partly on practical matters like safety, but kids also can learn trick riding or participate in games. They decorate their bikes with lights to ride in the holiday season parade called the Living Windows Festival.
In Australia, there is a national Ride2School Day in which around 140,000 students typically take part. On a daily basis, it is said that about 20% walk or ride bikes to school. But the situation as interpreted by Matthew Moore is not so rosy. He says the 60% of kids who are driven to and from school in family cars are "cosseted" and there are not enough young folk using active transportation or even taking public transportation. Compared to numbers gathered 40 years ago, the picture is dismal. But the Australian Heart Foundation polled parents, and two-thirds of them say they would let their kids ride bikes if there were safe bike routes, preferably separate from roads.
Your responses and feedback are welcome!

Source: "IMBA Joins White House Celebration, Pledges to Put 30000 Kids on Bikes," IMBA.com, 06/15/11
Source: "Bike club fosters good habits," ColumbiaTribune,com,10/08/11
Source: "Excelsior Public students will be on their bikes," whereilive.com.au, 03/20/12
Source: "Parents put the brakes on children riding their bikes to school," SMH.com, 03/21/12
Image by emdot (marya), used under its Creative Commons license.