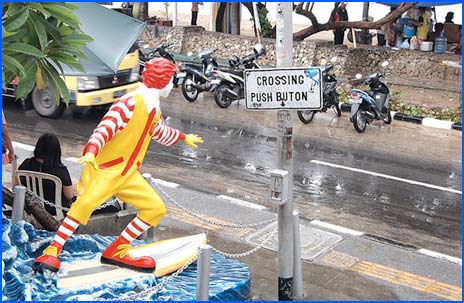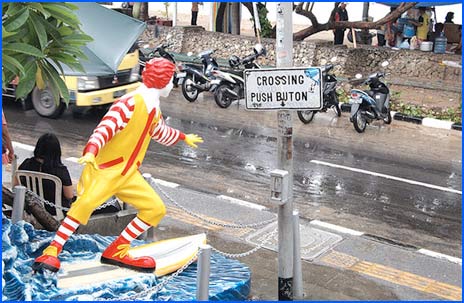 The Sultanate of Oman is next to the United Arab Emirates, Saudi Arabia, Yemen, and a couple of bodies of water. As of the year 2000, reportedly 99% of the population had access to health care services, and the following year its health care system was rated in the top 10 by the World Health Organization.
Like almost everywhere else, Oman has been colonized by McDonald's and has about a dozen branches of the franchise to serve its nearly three million inhabitants. (The picture on this page comes from the much more tourist-attracting paradise of Bali, also colonized.)
Mini Padikkal is a dietician at Atlas Star Medical Centre in Oman's capital city of Muscat. Recently she wrote:
Abdominal obesity is one of the greatest public health challenges of the century, it is also an established health problem in Oman… The prevalence of abdominal obesity in Oman is remarkably higher among women than men.
In a country whose prevailing religion dictates the wearing of tent-like garments in public, it is probably easy for women to take a casual attitude toward overweight. But Padikkal warns her readers not to ignore those fat rolls, and to remember that abdominal fat is not a cosmetic faux pas but a genuine medical problem.
She explains how a fatty liver can develop in middle age or even before. Fat deposits clog up the liver and hinder its ability to do its toxic-filtering job for the body. To avoid this, she recommends a diet high in fiber, moderate in carbohydrates, low in sodium, and generous with water.
For a wider overview of the Arabic Gulf States, we consulted a piece by Laurie Balbo, who finds that in such wealthy countries as Dubai and Saudi Arabia, the modern lifestyle does not do their citizens any favors. In that part of the world, 50% of the men and 70% of the women are obese or overweight, and the kids are very much at risk. Balbo says:
Children in the Gulf are nothing like their nimble agrarian ancestors. Informal exercise is all but extinct. Internet-based social networking brings the playdate indoors. Besides, public parks and sports fields are hard to find in modern Gulf cities.
The reporter, who has also lived in Ireland, finds that such dissimilar places as Great Britain and the Middle East have something in common — justifiably or not, they blame their obesity epidemics on American fast food. At least in the United States, people can say fast food is cheap. On the other side of the world, they don't even have that excuse. But, because of the petroleum-based economies, the people of the Gulf Cooperation Council nations can afford all the fast food they can scarf down.
Of course, the availability and affordability of fast food are not the only reasons for the area's exploding waistlines. Balbo says:
Quick urbanization of Arab Gulf states exposes kids to increased air and water pollution. New planned housing communities provide inadequate space for safe, informal, outdoor play. Ubiquitous passive smoking further jeopardizes their health. And everyone is in cars.
In the United Kingdom, about three million people (more than the entire population of Oman) are eligible for bariatric surgery under National Health Service guidelines. The U.K also has MoreLife, whose "Research" page provides a mass of links to the numerous publications with titles intimidating to laypersons. MoreLife's technical director, Prof. Paul Gately, writes:
Our award-winning programs are aligned to national guidelines, including NICE guidance, and are underpinned by an unrivaled evidence base; with 35 full peer-reviewed scientific journal articles and over 350 scientific communications to our name…

To date, our research has reported positive outcomes of interventions in the form of dietary and physical activity behaviors; standard physiological variables including body mass, BMI, % body fat, fitness, waist circumference and metabolic variables, and; changes in self-esteem, body dissatisfaction, self-efficacy, friendships and specific cognitive functions.
The literature of the MoreLife Summer Camp (formerly the Carnegie International Camp) proclaims it to be the longest-running residential weight loss camp in Europe:
It's not a 'fat camp', it's not a 'boot camp' it's just loads of fun (even our staff can't be dragged away!). Watch the trailer to see for yourself. MoreLife Summer Camp runs as a six week residential. You don't have to come for the whole six weeks of course, some campers stay two weeks, some a month, some for the whole six weeks — it is up to you!
A couple of years back, Prof. Gately expressed to reporter Nick Harding some thoughts on what has been called "fatsploitation" in the media:
Programs that concentrate on the extreme are pure entertainment and not relevant to 90 per cent of the public who see the very obese and say, 'I'm not like that, I can have another cream cake.' We have a national perception that what constitutes being overweight and obese is further down the line than the reality. Society as a whole is desensitized and subsequently the call to action is dropped because people think 'I am not that bad, I can carry on along the same path'. When they finally realize it is time to act, it is far too late.
Your responses and feedback are welcome!
Source: "21st Century epidemic: Abdominal obesity," Oman Observer, 04/21/12
Source: "Supersized Boys and Girls in Gulf States," Green Prophet, 04/15/12
Source: "Research," More-Life.co.uk
Source: "Camp,"More-Life.co.uk_
Source: "Is 'Fatsploitation' fuelling the obesity crisis?," The Independent, 07/20/09
Image by Adam Lai, used under its Creative Commons license.