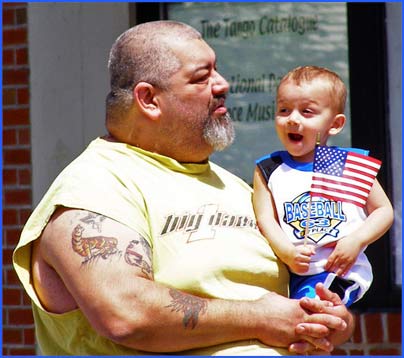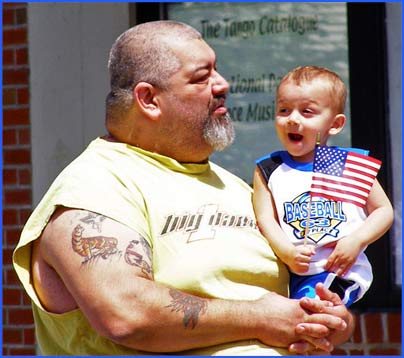 A while back, Childhood Obesity News mentioned some research on the physical side, which seemed to indicate that a child is more likely to be overweight or obese if the father is, than if the mother is. In general, fathers get far less attention, possibly because there are so many single-parent families and in the overwhelming majority of cases, that one parent is the mother.
One family making a difference in the childhood obesity field is headed by Helen and Francis Battisti, who both earned doctorates in human development by attending college at the same time as their three sons. In fact, they drew on the personal experience of one of their boys to put together a program:
Fran, Helen and Chris did speaking engagements as the voice of childhood obesity — as parents, health professionals and, in Chris' case, as someone who went through it.
Dr. Helen Battisti came from an obese family and was herself overweight as a child, which might have shaped her course as a dietician and nutrition expert. Dr. Francis Battisti is a psychotherapist, as well as a professor of psychology and human services. It is mainly his work that we are concerned with here — a research-based report, titled "A Father's Response To Having A Child Who Is Overweight."
His interest is in "the father/child relationship as it relates to the development of the child and its impact on various childhood issues, in addition to what these findings can mean to the delivery of needed services." He suggests four reasons why the father's perspective has been underappreciated, although this is changing:
(1) The literature is rich with studies that explore the influences of the mother/child interaction at it relates to weight.
(2) Studies that explore the influences of the parent/child perspective in general, as they relate to weight of the child, tend to focus on maternal influences, while largely ignoring the paternal impact.
(3) The limited number of father/child interaction studies suggests that researchers see this relationship as insignificant compared to the maternal influence on a child's weight.
(4) Studies that do explore the father's influence tend to look only at paternal genetic factors which contribute to the child's weight.
Dr. Battisti broke down a typical paternal response to a child's overweight, into a series of reactions, somewhat like the well-known stages of grief or of preparation for one's own death. He finds that fathers worry, then experience confusion, then minimize their impact, then experience "analysis paralysis," then defer responsibility, and then, finally, fathers engage.
This all adds up to something called the Theory of Interactions Factors That Lead to a Father's Response, or TIF. Dr. Battisti writes:
Fathers experience a number of intrinsic inputs as a result of their child's overweight, and they are motivated into engagement regarding their child's weight by a combination of interacting aspects of intrinsic and extrinsic inputs. Implications for social work practice and future research are discussed. This study offers social work professionals a perspective on childhood obesity which has been absent from the general social work literature. Insight gained from this study's research strengthens the effectiveness of social work interventions with families in their struggle to comprehend and react to the increasing impact of early childhood overweight.
Meanwhile, the other side of the world is just like this side, with a scary 70% of parents unable or unwilling to identify potentially problematic obesity when they see it in their own children. Even in remote New Zealand, the pattern holds, with 20% of the children overweight and 10% actually obese.
Professor Barry Taylor is head of pediatrics at the Dunedin School of Medicine, which received $2.3 million from the New Zealand Health Research Council to investigate childhood obesity prevention. Michelle Robinson reports on his research which indicts, among other things, "Dad's lazy eating habits." Fathers have a tendency, for instance, to buy whole milk, because that's the kind they grew up with. Simple re-education should take care of such matters.
More complicated is the reluctance of fathers to realize how much their kids imitate them out of love. What could be more natural than for a child to assume that anything Daddy does must be right?
Dr. Taylor is a believer in breastfeeding (which fathers should do their utmost to support), because babies nourished that way have a greater ability to self-regulate their food intake. But by the time they are three years old, the pressure of environment and an instinct to imitate their elders takes over. No matter how hard a father has worked to put food on the table, he needs to suppress the urge to make kids eat everything on their plates. Dr. Taylor favors indirect methods and says:
We should leave the obese child alone and focus on their family, their school, their environment and TV.
Your responses and feedback are welcome!
Source: "Ms. Helen E. Battisti," ZoomInfo.com. 09/20/11
Source: "A father's response to having a child who is overweight," GoogleUserContent.com
Source: "Dads' bad habits aid obesity," Stuff.co.nz, 03/11/12
Image by jylcat (Jill Robidoux), used under its Creative Commons license.