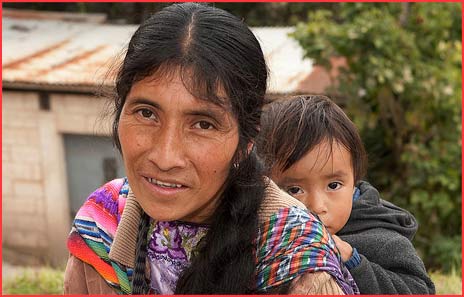 Childhood Obesity News has been talking about societal forces that make people do what they do, and get in the way of efforts to improve conditions. This is true of many things, including childhood obesity:
Some cultures or societies view body types and images in certain ways — for instance weight is seen as a positive thing in cultures where food is scarce… Obesity can be looked at like a social factor in health and wellbeing when it comes to eating what is being viewed as being positive or that shows affluence.
This page from ACS Distance Education also notes that eating junk food can be a status symbol, probably because most of it comes from America, and there are still plenty of third-world nations where the indigenous poor are deluded enough to think anything that comes from America is magic.
Cultural influences on body image issues can stem from political upheavals, too. Any parents who have lived in a war zone or a refugee camp or famine area at some point, will overfeed their kids any time they get a chance. When parents have been in an actual war, the health care establishment's enthusiasm for the war on obesity is unlikely to cut much ice or butter many parsnips.
The name of Eritrea is, to many minds, practically a synonym for famine. But the country's government drew criticism from all over the world last year by denying that there was any food shortage within its borders. Other sources estimated that two out of three Eritreans were hungry, and confirmed that 900 refugees a month were crossing into Ethiopia.
Imagine how bad things would have to be at home for anyone to see Ethiopia as an improvement! And many people from this part of the world, displaced by war or famine, make it as far as the Western nations.
For EthnoMed, Dorothy Cooper and Aisling Underwood studied the ways of Eritreans who emigrate to Western countries. Babies are breastfed for up to a year, but mothers often add solid foods as early as four months, which is early, according to American pediatricians.
The best baby is a fat baby, and portly adults are admired. It proves that the family is able to afford not only enough food, but extra. It's a much more reliable status symbol than cars or clothes. If you're a guest of an Eritrean family, it's good form to eat every morsel you are given, and never turn down anything that is offered.
What does this mean in terms of the social workers and health car personnel who deal with Eritrean immigrants? The authors say:
The decrease in exercise and change in familiar foods leads to a rise in obesity, diabetes, high cholesterol, and high blood pressure. There is a need to explain the concept of a healthy diet, portion control, and exercise. It should not be assumed that everyone has a good understanding of 'healthy' American eating habits.
An article appeared in the New Statesman more than 10 years ago, which is probably still relevant today, given the glacial speed of change in most bureaucracies. At any rate, it is illustrative of the endlessly varied circumstances that caring individuals and agencies run up against when trying to do good work "in the field," which is another way of saying "out there, where any bizarre thing can happen."
Susanne Jaspers worked as an emergency nutritionist in an Albanian camp that housed people displaced by the Balkan hostilities, and what struck her as bizarre was the number of overweight residents, particularly from Kosovo, an area whose sovereignty is still in question. Jaspers wrote:
They did not look like the refugees I was used to, the victims of African crises whose skeletal limbs and emaciated figures haunt television viewers the world over… It became clear that the main nutritional problem among Kosovars was not under-nutrition, but obesity. This was confirmed by a nutritional survey in January 2000 in Kosovo which found that, while only 5.3 per cent of adult women were undernourished, 23.6 per cent were overweight and 10.4 per cent were obese. Among the elderly (both sexes), 32 per cent were overweight and 16 per cent obese.
Colleagues working in Bosnia confirmed her observations. The traditional diet in the entire area includes plenty of animal products, and for a variety of reasons it was always possible to be fat and poor at the same time. In the camp where Jaspers worked, she experienced inner conflict over two issues. One was the unfair distribution of donated food among various populations worldwide. The greatest help was not applied to the greatest need.
The other cause for unease was based on the physicians' rule, "First, do no harm." Nutritionists are not supposed to fly into a place and weed out potentially harmful substances, even if they are edible. This was the problem:
The quantity and types of food provided to some Kosovars while they were refugees was exceptional. The UN used the same procedures to work out food-aid needs as elsewhere, but numerous agencies decided to use private funds to purchase food. Meanwhile, many donor countries provided funding direct to non-governmental organizations (NGOs) to buy additional foods; and donations — ranging from Mars bars, Italian cakes, pains au chocolat, Turkish delight, as well as healthier alternatives such as milk, cheese, fresh fruit and vegetables — arrived in NATO planes… How can we justify providing high-cost food items to Europeans who were not undernourished when, in most African crises, we cannot even provide undernourished populations with a basic survival ration?
Meanwhile, the tendency of people to leave for other parts of the globe has brought 20,000 Nigerians to Ireland, where they continue with their old custom of breastfeeding babies for at least a year. But after this good start, the kids get the customary high-fat, high-starch diet, with meat whenever possible, and the efforts of government health care workers encounter cultural resistance:
More traditionally minded persons view obesity as positive.
Your responses and feedback are welcome!
Source: "AGS Distance Education," AGS Distance Education website
Source: "Drought in Eritrea: Hunger despite government denials," BBC News, 09/04/11
Source: "Eritrean Cultural Profile," EthnoMed, 06/16/10
Source: "Don't let them eat cake," New Statesman, 05/15/00
Source: "Nigeria," Spirasi.ie
Image by DavidDennisPhotos.com (David Dennis), used under its Creative Commons license.