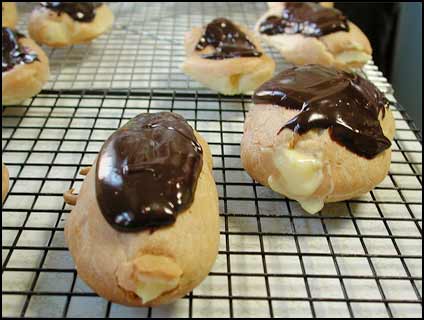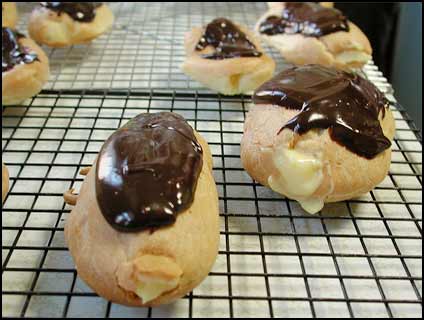 A Twitter entity called "Food Porn" (with more than 30,000 followers) acts as a clearinghouse to spread around links to porny food pictures that other people have sent her or him. It does, indeed, take all kinds to make a world.
What exactly is food porn, and how is it different from regular advertising? There is always disagreement, and the public discourse is full of attempts at definition. Some say, "I know it when I see it." Many commercials have a distinctly forbidden-fruit aura, as if meant to be viewed late at night in a motel room, like this succulent, lascivious hot dog with cheese. Even with the sound turned off, you get the message — it's the next best thing to sex.
Anthony Bourdain is famous for his No Reservations TV show, and YouTube harbors at least six 15-minute segments in which Bourdain explores food porn, which he defines as:
… [V]icarious enjoyment of people doing things on screen or in books that you yourself are not likely to be doing any time soon.
Like the other kind, food porn takes a person to "that special place where everything is beautiful and nothing hurts." Bourdain points out that the hype for media about sex and food employs the same vocabulary — the product is described as decadent, spicy, sinful, orgiastic, etc.
TV shows about food preparation are constructed on the same basic framework as porn movies, with separately filmed inserts, "clinical close-ups, slow sensual pans," and so forth. The actors have a full repertoire of reaction shots. "How many ways can you tell the same squalid story?" asks Bourdain. But still, "You just can't look away."
Bourdain's is perhaps the most food-positive TV show anywhere, but it is more concerned with aesthetics and appreciation of the craft of cooking, throughout time and all over the world. He gets why people have learned to eat so many odd things — because often, it's all they had. They could not afford to waste nature's gifts.
Bourdain fully understands the ingenuity that humans use to nourish themselves with whatever is available. If something had nutritional value but not much intrinsic appeal, cooks over the ages have found ways to make almost anything palatable. Their motives were noble — the people needed to be fed.
This is totally different from the ethos of the present-day manufacturer, which is to take foodstuffs that are processed beyond all recognition, and byproducts, and filler, and chemicals, and stuff that really has no value to the human body, and make the product so appealing that people will become addicted to it and enrich the corporation. That's a whole different proposition.
A lot of people feel that the sexualization of food is not the best course for a society to take. Perhaps not, but there is nothing to be done about such an entrenched element of human nature. The association is not exactly new. The 1963 film Tom Jones shocked viewers with its eating scene, but the novel on which the movie was based was written in 1749. Sigmund Freud also had a few things to say about the topic.
Many food photo extravaganzas are reminiscent of traditional porn, while others look more like the TV shows that feature live surgery. A lot of people feel that pictures of and narratives about food actually cause the people who receive these communications to eat more. The theory behind television advertising, for instance, is that when people see a pizza, they will order one. Or maybe they will eat muffins instead. It doesn't matter, because the mega-corp that owns the pizza store probably owns the muffin company too.
A lot of times, when a person criticizes an abstemious neighbor for being such a prude and an uptight fuddy-duddy, that person is, in a secret corner of her or his psyche, envious of the neighbor's maturity and ability to self-govern. The critic may actually hope to learn how to say "no" to herself or himself.
People are so conflicted about erotica, always proving and disproving to themselves and others that either a.) porn causes rape or b.) porn replaces rape. That is the argument in its most basic form, though, of course, a lot of rhetoric gets tacked onto it, sometimes elaborate enough to make it to the Supreme Court.
One theory of pornography is that it functions as a safety valve and "lets off steam" that would otherwise manifest as violent actions against others. When people view the Food Network or food advertising, are they content with second-hand satisfaction? Do the luscious visuals alleviate their wish to eat in real life?
Or does food advertising cause people to eat? Look at it this way: Would the industry spend $5 billion a year on something that doesn't work?
Your responses and feedback are welcome!
Source: "Anthony Bourdain — No Reservations — Food Porn 1:3," YouTube
Image by Rex Roof, used under its Creative Commons license.