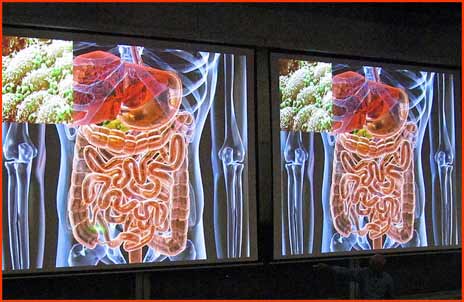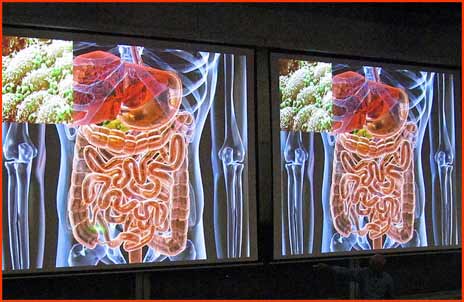 Although they are not discussed as often as other organs such as the heart, the intestines are very important. Jill Escher mentions them, when dismissing the theory that sugar is just empty calories:
No, no calorie is empty — each bit of digestible stuff we put in our mouths will have some biochemical impact on our complex physiologies, and in the case of sugar those supposedly 'empty calories' elevate our blood sugar, impact our gut biology and endocrine systems, and alter our neurochemistry.
Childhood Obesity News has mentioned the topic before, more than once. When talking about cravings, we quoted two authorities on wheat cravings. Pioneer food addiction specialist Dr. Douglas Hunt wrote that they go away after four days of abstinence, and Zoe Harcombe says five days.
Either way, the residue of wheat products and any accompanying yeast need to completely leave the digestive tract, before the cravings will cease. The trick is to get through those early days, which the "W8 Loss 2 Go" iPhone App has been created to help with.
Becoming unhooked from problem foods is possible if they are tackled one at a time, in a structured way. "W8 Loss 2 Go" creates a personalized support network that can be an enormous help in getting through the initial stages of withdrawal, which are the hardest, and then maintaining a healthy lifestyle.
The digestive process was also mentioned in a comment that has since been removed from a webpage about Carnie Wilson, but whose traces are still visible in the cached version. The person's name is Lee, and she is upset by people who call bariatric surgery an easy fix:
The type I had rerouted my food! I do not use my stomach — I had a pouch made out of muscle in my leg — and it bypasses a lot of the upper intestine !! I cannot overeat — as there is no place to put the food — it will come back up and out!! You cannot take a lot of over counter meds — or any NSAIDS — or any time release meds — or alcohol based meds — no codeine — or you will burn a hole in the pouch and waste will dump into your internal organs!
NSAIDS, of course, are drugs that relieve arthritis pain, and Lee has very bad arthritis. Unable to ingest the oral medications, she says she must take two injections per month at $1,600 each, along with a monthly shot of Vitamin B12 due to the surgery, and three other unspecified monthly injections. Also, she is on two meds every day for high blood pressure, which the surgery did nothing to alleviate. In other words, Lee emphasizes, gastric bypass is neither easy nor a fix.
Maybe we can get to a place where food addiction never even needs to be treated, because it won't exist anymore. Maybe the way to prevent it lies not just in the psychological self, but also deep in the gut. Stranger things have happened, and humans don't yet know everything. One thing we do know is, even if it turns out there is no direct link to obesity, keeping optimum intestinal health can only do a person good.
Your responses and feedback are welcome!
Source: "Sugar, the Narcotic," JillEscher.com, 10/16/11
Source: "Carnie Wilson Sacked as Diet Spokesmodel," Showbiz Spy, 11/29/10
Image by Newtown Grafitti, used under its Creative Commons license.