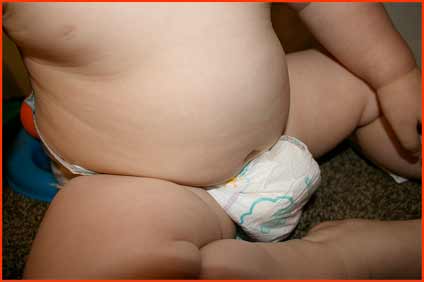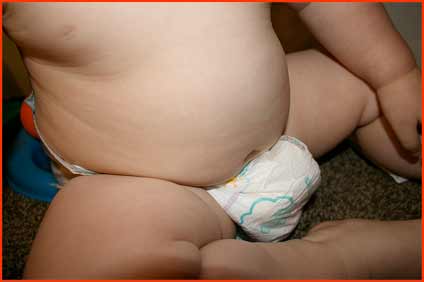 "Why is my kid fat?" is the question asked by many parents. In some cases the answers are obvious, but in others, not so much. There are many theories, and no matter what else may or may not be going on in genetics, manufacturing, or the environment, there is solid evidence that food addiction is a big and mostly unrecognized factor in the childhood obesity epidemic.
For a family that already has an overweight or obese child, this information doesn't help much, but someone who is contemplating pregnancy might want to know about it. Medical reporter Meg Farris explains how research seems to indicate that a malnourished fetus is actually being genetically reprogrammed. The child is then destined for a lifetime of struggle against obesity and other health problems. She writes:
Studies on animals and humans strongly suggest that when pregnant women eat way too many omega-6 fatty acids and not enough omega-3 fatty acids, it sets her child up for a lifetime of being overweight with health problems… [T]he American diet is low in the omega-3's and too high in the omega-6 fatty acids in other vegetable oils like soybean, sunflower, canola and corn oils.
Problem is, omega-3 fatty acids come from salmon and tuna, both of which are subject to numerous forms of contamination in their cold-water habitats. Farris recommends checking with one's doctor about this quandary.
Mike Gibson, whose business is selling fish oil supplements, reminds readers that omega-3 fatty acids can improve the mood, help with weight loss, and reduce cholesterol and high blood pressure. The idea of a tradeoff where the patient has to balance such benefits against the risk of, for instance, mercury poisoning, is not attractive.
Gibson says there is no "formal interpretation" or definition of exactly what pharmaceutical grade fish oil might be, so, naturally, some people shy away from fish oil supplements. For them, he offers this advice:
If getting your omega 3 fatty acid from fish oil is not right for you, you can also receive this crucial nutrient from herb sources. Flaxseed oil is one such plant based product that will provide you with as much omega 3 as the fish oil, but it's unlikely to contain the equal measure of DHA and EPA — two real important omega 3 fatty acids primary for optimal health.
Humans seem to have some kind of atavistic belief that fat mommies and fat babies are good. Well, of course, every society ought to want adequately nourished mothers and babies, but our instincts have led us to prefer too much of a good thing.
Denise Mann, for WebMD, reported on research done at Northwestern University, by Dr. Jami Josefson and others. They found that even women who start out at normal weight and then put on excessive weight during pregnancy will have babies with too much body fat. And no matter how cute and cuddly a fat baby looks, it's not doing the baby any favors. Dr. Josefson names excessive weight gain during pregnancy as one of many contributing factors to the childhood obesity epidemic.
The reporter gives many details of the study, and quotes the doctor:
Be at as healthy of a weight as you can before becoming pregnant and gain weight within the guidelines. If you gain too much weight during pregnancy, it can have a negative effect on your child's risk of obesity. And it is also harder to lose this weight, so when you start your next pregnancy, your baby is at a higher risk to begin with.
Your responses and feedback are welcome!
Source: "Your weight struggles could be due to what your mother ate during pregnancy," WWLTV.com, 08/22/11
Source: "How To Choose A Pure Fish Oil Supplement," Niche Volumes, 11/10/10
Source: TITLE "Too Much Pregnancy Weight Linked to Baby's Obesity Risk," WebMD, 06/07/11
Image by jencu, used under its Creative Commons license.