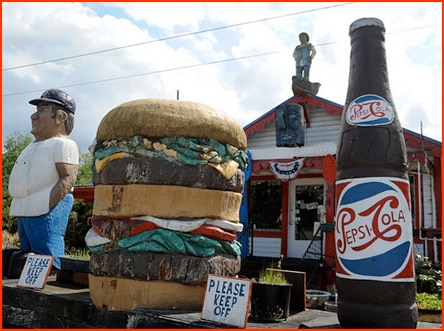 CALPIRG, also known as the California Public Interest Research Group, issued a report titled, "Apples to Twinkies: Comparing Federal Subsidies of Fresh Produce and Junk Food." As described by P.J. Huffstutter of the LA Times, the report "makes the case that federal farm subsidies are helping feed the nation's obesity epidemic." Furthermore:
Billions in taxpayer dollars are going to support high fructose corn syrup and three other common food additives used in junk food… The research shows that from 1995 to 2010, $16.9 billion in federal subsidies went to producers and others in the business of corn syrup, high fructose corn syrup, corn starch and soy oils.
The researchers did some fancy math and calculated that if farm subsidies were equally distributed among the 144 million taxpayers of America to buy lunch with, each of us would be alloted $7.36 for junk food and 11 cents for healthful fresh produce. This is not good news for anti-obesity activists, or for taxpayers either, because what it means is that each taxpayer pitches in $7.36 to junk food manufacturers, just out of the goodness of our hearts and the fact that the government compels it.
That's in addition to the large sums we voluntarily give them in exchange for their food-like products, most of which are based on corn and soy. It might be more accurate to say, crops that resemble corn and soy — which are then thermally and chemically tortured into new and grotesque forms in the same way that pure cocaine is coaxed from a truckload of leaves.
There is more to the food industry than meets the eye. David Rosen in Counterpunch identified the five major tentacles of the octopus, every one of which has a vested interest in obesity:
(i) the large factory farms
(ii) the food and beverage processors
(iii) the fast food chains
(iv) obesity medicine
(iv) weight-loss programs (e.g., Nutrisystem and Jenny Craig) that charge 11-$15 a day per person, unaffordable to those most in need; and
(v) the advertising apparatus of TV, newspaper, magazine and Internet that glorifies unhealthy and fattening foods and drinks.
One of the changes that has taken place is the creation of an Obesity Medicine Physician Certification. A doctor earns it by satisfying the criteria set up by the Obesity Society and 10 societies of medical professionals, including those specializing in pediatrics and diabetes. The exam covers medicine, nutrition, exercise, and psychology, and while there is certainly nothing wrong with any of that, just imagine what a big waste of time it will all turn out to be, if food addiction is actually the problem, and the angle that everyone should be concentrating on.
In 2011, which companies most lavishly filled the pockets of their employees, the lobbyists, and also filled the pockets of officials who shouldn't be taking money from them at all? Who, we might ask, are the "Top Ten Food Companies Paying off the Government"?
Fortunately, someone took the trouble to answer that question. HuffPo Food and OpenSecrets.org did the work, and Rachel Stone gives them props, but to see exactly what the details are in each case, please consult her page. We will reveal — and please try not to faint from shock — the biggest spender was Coca-Cola, whose total influence-peddling budget crept toward $5 million.
The Big Bad 10 are:
Dunkin' Donuts/Baskin Robbins
Hershey's
Starbucks
YUM! Brands (Taco Bell, KFC, Pizza Hut)
Sodexho — which provides catering to a huge number of institutions, including the U.S. Armed Forces
McDonald's
Olive Garden/Red Lobster
Mars (M&Ms, Snickers, Wrigley's Gum)
PepsiCo
Coca-Cola
Your responses and feedback are welcome!
Source: "U.S. spending billions to subsidize junk food, study says," LA Times, 09/23/11
Source: "The Politics of Obesity," Counterpunch, 10/28/11
Source: "Top Ten Food Companies Paying off the Government," Eat With Joy!, 12/14/11
Image by Wonderlane, used under its Creative Commons license.