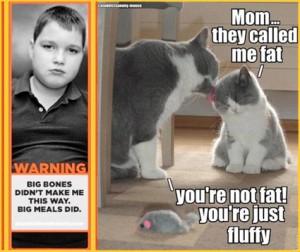 Adverse criticism led to the shutdown of a Disney World attraction that had barely even opened. At the same time, Georgia's Strong4Life advertising campaign drew criticism from far and wide, partly for the ridiculous reason of being too ethnically diverse. The slogans on the billboards have been called shaming, and Descygna, the author of a piece at Diets In Review, calls them guilt-inducing.
In today's illustration, we see the humorous photo of a mother cat licking her kitten and assuring it, "You're not fat! You're just fluffy." We also see one of the reviled billboards ads, in which a young boy says frankly, "Big bones didn't make me this way. Big meals did."
All across America, mothers are telling their children, "You're not chubby, you're just big-boned." If kids have adults in their lives who are feeding them this "big-boned" line, maybe the billboards are not such a bad thing. Awareness does, after all, need to be raised in both children and adults.
But a woman named Leah thought the whole ad campaign was very bad indeed, and started a Twitter movement called #Ashamed. The author tells us:
The billboards are targeted at the parents of the one million obese children throughout the state of Georgia, but the concern is that kids will see these messages and feel an incredible amount of shame, ridicule and guilt about their weight. The efforts of those protesting these ads have paid off and they will all be removed sometime this month. While the fight against obesity is a very important one, the fight must be against obesity and not obese people.
She also quotes another critic who says the ads are the moral equivalent of "throwing daggers." But the main thing is, just like Disney, the Georgia Children's Health Alliance caved. The billboards will go.
The folks who organized the Twitter protest would rather see resources used for excursions to farms, and for school gardens. Nothing wrong with those things, but it's just possible that an overreaction has taken place. Maybe the vanquishing of the billboards is not, as they claim, a "victory for all."
Dr. Pretlow notes with satisfaction that this year, for the first time, the Obesity Society's Annual Scientific Meeting (scheduled for September) will include an entire track on Neuroscience. He explains the significance and the implications:
Now that there is firm neurological evidence of the addictive basis of obesity, we must take action on this, both in treatment and prevention. Publicizing that childhood obesity is not a simple nutritional ignorance or sedentary activity problem, is the first step in curbing this horrific epidemic… Child obesity is an addictive brain disorder. Obese children are neurologically hooked on highly pleasurable foods, such as junk food and fast food. They are not hooked on broccoli. The research evidence is still embryonic but it makes sense. It thus should help kids to understand why they are obese and give them hope for change, one step at a time.
Dr. Pretlow would like to see holidays celebrated in other ways than by showering children with candy. The sale of junk food to children should be restricted, and so should the advertising of food to kids — either severely curbed or altogether banned. Government can help by enforcing marketing restrictions and by taxing junk food. It has spread the word that cigarettes can kill, and it needs to send out the message that junk food can, too.
Kids, he says, need less stress in their lives, in order to reduce their tendency toward stress-eating. Somehow, a nation of befuddled, confused adults need to clean up our act, define boundaries, and set a good example. Children need the cooperation of adults, who must stop using food treats as bribery for good behavior or as currency to buy love. And stop telling them they're just fluffy.
Your responses and feedback are welcome!
Source: "Georgia's "Fat" Shaming Billboards are Coming Down," DietsInReview.com, 03/01/12
Image of the billboard by Georgia Children's Health Alliance, used under Fair Use: Reporting.
Image of the cats by Cat Addicts Anony-mouse, used under Fair Use: Reporting.