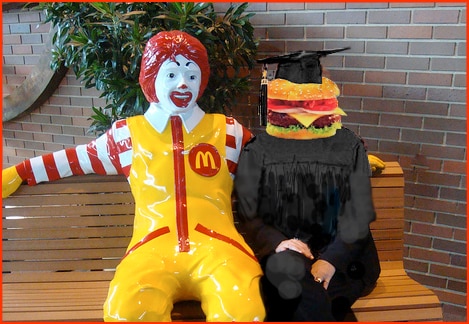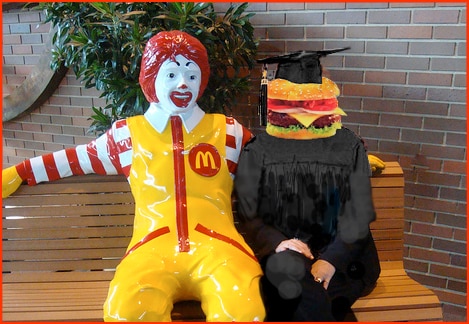 Bloomberg stringers Michael Wei and Margaret Conley reported the astonishing news that acceptance into the Chinese branch of McDonald's Hamburger University is harder to attain than admission to Harvard University. What they meant was, the ratio of applications to acceptances is under 1% at Shanghai's corporate training center, whereas Harvard magnanimously takes in around 7% of the students who apply there.
This is one of seven senior management training centers McDonald's maintains throughout the world, the first having been established in Illinois way back in 1961. The tuition for the aspiring Chinese managers is free to them, paid by the company. This particular leadership training course lasts five days and is said to cost McDonald's just over $1,500 per student. That includes the salaries of translators who handle English, Mandarin, and Cantonese for the benefit of the instructors and the diverse student body.
The report says:
The school last year trained 1,000 of the almost 70,000 employees McDonald's has in mainland China… Another 4,000 people will attend classes at the training center through 2014… McDonald's has 1,300 stores in China and aims to have 2,000 by 2013.
That's, like, 700 new outlets by next year. Just imagine how many new health problems will descend upon the Chinese. But never mind that, managing a hamburger franchise sounds like a great job to most people in the immense land, where about a quarter of the country's college graduates are unemployed.
Speaking of the unemployed, in America, a lot of jobless people are eating at McDonald's, and the fast food industry wants them to be able to use food stamps. While the Yum Brands corporation seems to be leading the charge, the McDonald's troops are not far behind. Actually, "food stamps" is an outdated term. They have plastic cards now, and the bureaucracy is called the Supplemental Nutrition Assistance Program, or SNAP.
The cynical view is that, under the guise of caring about the poor, fast food chains are lobbying for the ability to accept food stamps in payment so their own bank balances will be even further enriched.
After an introduction by David Paul Morris, The New York Times asked food policy experts to comment. Morris says:
Nearly 50 million Americans rely on food stamps… While the rising rolls can be linked to increasing joblessness, many low-wage workers also rely on the benefits. Some anti-hunger advocates would like to make it easier for them to use food stamps, by relaxing rules forbidding their use to buy fast food.
Dr. Michelle Gourdine has a firm opinion:
These poor nutrition habits contribute to an obesity epidemic that affects everyone, especially children, the poor and people of color. That's why allowing food stamps to be used at fast food restaurants is absurd. It makes no sense to use government funds to purchase foods that contribute to disease and increased health care costs.
Robert Rector of the Heritage Foundation agrees, and he wants the rules tightened up even more, to forbid the use of food stamps to buy junk food in grocery stores, as is now allowed. Proponents of this measure say, if food stamp recipients must have junk food, they can always buy it with their own money. And why do anything with public policy that would promote the overall consumption of more low-nutrition calories?
Tom Laskawy points out that, despite the prohibition against SNAP benefits being used to buy prepared foods, national law has actually provided an exception in the case of recipients who are elderly, disabled, or homeless. In the past 30 years, only five states have taken advantage of that provision, and maybe there's a reason why the states have made that decision. It's a good argument, some say, for not forcing it at the federal level. Laskawy regrets:
… the growing conflict between food reformers and nutritionists on the one side, and anti-hunger advocates on the other. It's a fight that serves no one's interests and only complicates our ability to help those in need.
Your responses and feedback are welcome!
Source: "Getting Into Harvard Easier Than McDonald's University in China," Bloomberg, 01/21/11
Source: "Expand the Use of Food Stamps?," The New York Times, 09/27/11
Image of Ron McDonald by learningexecutive (Dirk Tussing), used under its Creative Commons license.
Image of the hamburger/grad by Mike Licht, Notionscapital.com, used under its Creative Commons license.