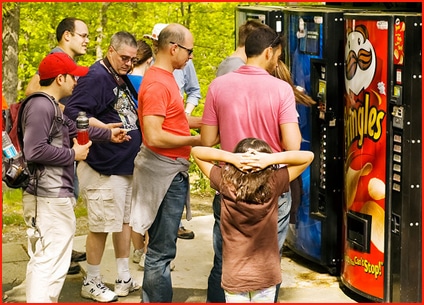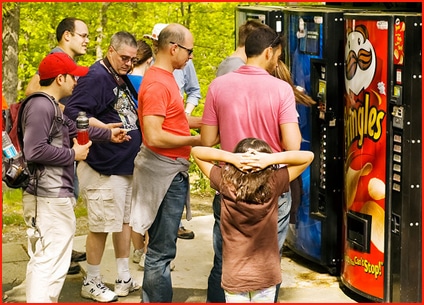 Childhood obesity is very much connected with the mental and emotional condition of wanting something. Often, that something is detrimental to a child's health. Often, the something is all too easy to get hold of, thanks to the many factors that make up the "childhood obesity perfect storm." One of its negative features is the easy availability of junk food, thanks to the great commercial infrastructure of a country devoted to selling things. Is there any remote corner of America where a sugar-sweetened beverage cannot be found?
A craving comes from inside; a temptation comes from outside, and its mission is to set up a craving. And then there's advertising, designed to hypnotize people into a constant, unremitting state of desire for something to ingest. It's well-known that people overeat for all kinds of emotional reasons. But now we have recreational eating, just for the fun of it, and for something to do.
This is one of the few areas of behavior that could possibly be changed (unlike celebratory eating, which is far too ingrained in individuals and cultures to ever change). If a person's life is interesting enough, recreational eating plummets to the bottom of the to-do list. It is possible to help people, including children and teenagers, to have more self-actualized lives, which leads naturally to a disinterest in recreational eating.
And even when we develop other interests — like getting outdoors for some healthy exercise — temptation is literally in our path. David Goehring, who took the picture on this page, noted:
The hikers cue up at the vending machines (yes, really) midway along our hike.
In Chapter 15 of Overweight: What Kids Say, Dr. Pretlow passes along clues gleaned from the astonishingly forthcoming Weigh2Rock kids, on the subject of resisting the food, food, food that is everywhere. The first step is to identify the "hookable" foods, the ones that present a real problem. Then, get rid of or conceal those things, insofar as possible in a home shared with others. For instance, try to convince the rest of the family to stock up on fruit and veggies for snacks.
And, if necessary, just stay away from certain places. If you've been on the "see-food diet," it just makes sense to avoid the Chocolate-Covered-Bacon Shack. Fifteen-year-old Alli says,
Out of sight, out of mind — don't put yourself in front of temptation or temptation in front of you.
The "W8 Loss 2 Go" iPhone app (link is PDF), which Dr. Pretlow developed, provides the same kind of information as the book, in readily accessible form for the child who needs minute-to-minute, real-time support. Kids faced with cravings and temptations can tune right in to helpful suggestions offered by their peers.
Your responses and feedback are welcome!

Source: "An iPhone App Intervention for Childhood Obesity, Based on the Substance Dependence (Addiction) Model" (PDF), Weigh2Rock.com
Image by CarbonNYC (David Goehring), used under its Creative Commons license.