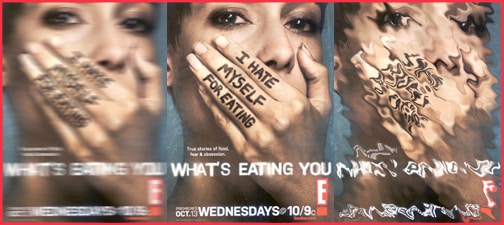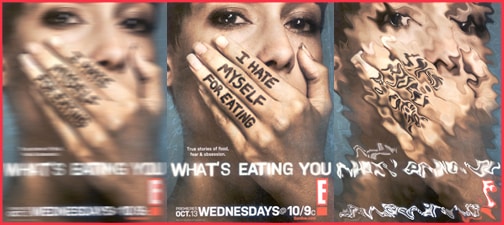 When an issue receives publicity, one result can be the positive, conscientious kind of heightened awareness and enlightened attention that inspires helpful action. Too often, there is also a downside, a dark side that resembles unhealthy obsession. The more closely the realm of obesi-TV is scrutinized, the more strange and outlandish it appears, with streaks of voyeurism and Schadenfreude (the gloating enjoyment of other people's misfortunes).
Those who are really worried see this kind of programming as having more in common with porn than with either scholarship or news. As Alessandra Stanley so concisely stated:
Television used to ignore obesity; now it wallows in it.
The word "fatsploitation" has been around for a couple of years at least, and various writers have taken a run at defining and deploring it. One of those reporters is Nick Harding of The Independent, who two years ago profiled Barry Austin, and quoted the fattest man in Great Britain as saying:
People… used to see fat people and were disgusted by us — we were fat and lazy. Now those perceptions are changing and obesity is becoming an acceptable illness. The danger, though, is when it gets turned into a freak show.
At the time of the interview, Austin was said to weigh 55 stone. Another source claims his top weight was 65 stone, but another puts it at only 50 stone. Even if he never got beyond the 50-stone mark, that's about 700 pounds. Sadly, Austin did not keep the title, but has since lost it to an even fatter man.
There is an old saying: "Don't steal the tires, steal the car." In other words, don't do things by half-measures. Whatever you decide to be, be the best. It sounds like Barry Austin lived his life by this creed. The reporter characterized him as:
… the undisputed heavyweight champion of a nation obsessed with obesity. The star of documentaries like Inside Britain's Fattest Man and Back Inside Britain's Fattest Man, Austin had his own magazine column and became a media personality.
Austin, who was accustomed to eating 10 times as much as the average man, told the reporter he enjoyed fame, but blamed the media. Britain's then-fattest man is quoted:
The TV shows didn't help me. They put me in a hotel and said eat and drink whatever you like. It was like giving a heroin addict drugs.
At the time of the interview, Austin was "bedridden, fighting infections, struggling to breathe, immobile and waiting to die." It's impossible not to wonder why, at some point, people didn't just stop bringing him food. Harding discusses many related subjects, like the history of obesity as entertainment, which goes back hundreds of years, and the fat acceptance movement in the United States.
He also points out the huge strain obesity puts on the health care system. For just one example, at the time, Harding learned that more than three million British citizens were, technically, eligible for bariatric surgery under the National Health Service.
Another interesting thing he points out is that the debate over removing morbidly obese children from their parents didn't just start this year. He talks about the 2007 case in Britain where the local authorities threatened to take young Connor McCreaddie into care (they didn't), and quotes Tam Fry of the National Obesity Forum:
What his story did was to start the debate on whether obesity is a safeguarding issue… people are now debating whether there is a difference between the dangerously thin and the other side of the coin, where a child is overtly neglected by his or her family in being allowed to eat whatever comes to hand.
Harding, who seems rather cynical than optimistic, predicts:
The appetite for 'fatsploitation' entertainment isn't yet sated… [I]t's evident we may have a few hang-ups about the morbidly obese, who are wheeled out on reinforced gurneys for our entertainment.
TV Shows Mentioned by Nick Harding:
"Drop Dead Diva"
"More to Love"
"Dance Your A** Off"
"Half Ton Mom"
"Fix My Fat Head"
"Supersize Teens: Can't Stop Eating"
"Fat Teens in Love"
"Supersize vs. Superskinny"
"Weighing In"
"Too Fat To Toddle"
Your responses and feedback are welcome!

Source: "Big Nation. Big People. It's Clearly a Big Deal.," The New York Times, 05/18/10
Source: "Unhealthy appetite: Is 'Fatsploitation' fuelling the obesity crisis?," The Independent, 07/20/09
Image of "What's Eating You" E! print magazine ad is used under Fair Use: Reporting.