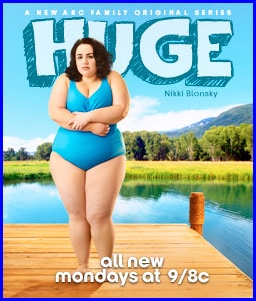 Childhood Obesity News has been checking out various books, films, reality TV shows, and so forth. When "Huge" started airing on ABC, Bill Keveney of USA Today wrote about it favorably. The drama series is set at Camp Victory, where teens go to lose weight. Nikki Blonsky plays Will, a girl who very much does not want to be there. The actress told the reporter of her pride in being a member of "the first full plus-size cast, I think, in the history of TV."
"Huge" started as a novel by Sasha Paley, and was adapted for TV by Winnie Holzman and Savannah Dooley. Keveney quotes Dooley on a fascinating aspect of the obesity problem in relation to society at large:
When I was writing this, I was reading a fat-acceptance blog and the fat-acceptance movement has reclaimed the word fat. I have Will say 'fat' instead of 'overweight,' because for her that's almost like a slur she has reclaimed. There are (other) characters who would never dream of using the word 'fat.'
Holzman says that she and her co-developer have always seen "Huge" as being about transformation and the potential for personal reinvention. The network spun off the show into a whole healthy-living campaign, "Live Huge." But "Huge" has its detractors, starting with The Daily Beast's Jessica Bennett (who also writes for Newsweek and has won a bunch of journalism awards).
Bennett writes:
The title conjures a reality freakfest: an hour or so of game-show challenges for morbidly obese contestants, whose bodies and lifestyles are just grotesque enough to keep us watching. Put that show on a family channel, though, and you're probably in for a heaping helping of 'love your body' instead of fatsploitation. What you'll get… is something in between.
Bennett goes into more detail about Will, who threatens to gain weight as a protest, then discovers an even better method of rebelling — she becomes the kingpin of a junk-food black market. Will thinks she likes herself the way she is, although Bennett sees the character as being in denial, because she actually hates her overweight body as much as the next kid. Fat acceptance is the booby prize, and eventually it becomes clear that resistance to the societal imperative is futile.
How's this for the premise of a romantic comedy? A teacher and a cop meet at Overeaters Anonymous. That's "Mike & Molly," and this is Amazon.com customer/reviewer Miss Jane's opinion of the first season:
Here was great opportunity to send a message about what's really beautiful and important, and while that theme is certainly there, it is all too often buried under an endless stream of completely tacky sex jokes or even worse, fat jokes… And many of the fat jokes just don't work, even when they come from the mouths of the overweight characters.

… [A]fter several episodes, it starts to feel more like 'we came up with this great idea to show the lives of people struggling with weight issues, and now we don't quite know how to portray that, and we're hoping if we head-fake you with a bunch of bawdy jokes you won't notice.'
Your responses and feedback are welcome!
Source: "ABC Family's 'Huge' tackles issue of teen obesity," USATODAY.com, 06/28/10
Source: "Fat Camp, In Your Face," The Daily Beast, 06/27/10
Source: "Mike & Molly: The Complete First Season (2010)," Amazon.com
Image by ABC family, fair use as a promotional material issued to the media.