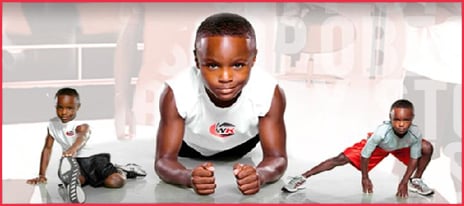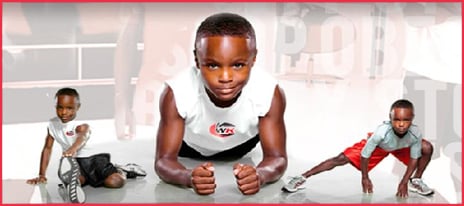 The situation regarding childhood obesity and the media seems to have a high level of awareness and some promising leads, yet few real answers. But, you've got to hand it to them, even the kids are pitching in to try and make a difference. In Atlanta, GA, a 10-year-old boy named CJ Senter is one of the youngest fitness buffs to have made a workout DVD, and he even has his own website.
Georgia is, of course, the state that stirred controversy with its obesity awareness billboards. The Workout Kid instruction/inspiration video program, featuring Senter's original "signature moves," seems likely to attract much more positive attention. The fifth-grade honor student, who can walk on his hands, has a simple and indisputable philosophy:
I feel bad when I don't exercise. I feel good when I exercise.
Not Fat Because I Wanna Be is a story book for children, written by seven-year-old LaNiyah Bailey (who also has her own website) with some help from her mom. The main character is Jessica, a girl who (just like Bailey) is overweight because of an undiagnosed medical condition. However, Bailey's book is not so much about obesity as it is about the bullying that Jessica faces.
The Water's Edge is a novel by Karin Fossum. One of the characters is a morbidly obese 10-year-old child, and the author has obviously known someone like this. There is a very extensive description of the kind of life led by such a boy. When he goes missing, the police visit his school to get some background on his behavior, learning that he has always been excused from gym class, swimming lessons, or any other form of physical activity that he couldn't manage.
Okay, it makes a certain amount of sense, because letting a morbidly obese child skip those classes would reduce the amount of bullying they would be exposed to, not to mention the humiliation of having to get undressed. But still, it seems very illogical and counter-intuitive. The story takes place in Norway, but it makes you wonder if it's the same in the U.S.
Anyway, one of the teachers tells the police:
When he eats, I can barely make contact with him. He grows distant and unapproachable, as if he were high.
We have mentioned Maggie Goes on a Diet, an entry in the childhood obesity fiction genre that many people object to. Slate writer KJ Antonia doesn't care for it either, but does like Eddie Shapes Up, written by Ed Koch, which is described as semi-autobiographical. Apparently, the former mayor of New York City was once a fat kid.
Antonia says:
The Eddie in the book goes from a dodge-ball vicitm who dreads recess and eats the chips from his friends' lunches to a soccer player — not a star — with a still-stocky body, a healthier diet and the ability to enjoy more of his life. Eddie Shapes Up succeeds in making its message reasonably entertaining, mostly because of clever illustrations, like the ones hiding Eddie under his blankets and showing him struggling to zip his pants.

… Eddie Shapes Up… places its emphasis on health and happiness — Eddie has more fun when he can move — without ever mentioning appearance or popularity. With younger kids (and even older elementary students) Eddie Shapes Up, particularly with its mayoral backstory, could help.
George Carlin said that we're "fatally addicted to slow death by fast food" and there's a video clip on YouTube, but be warned — it's very Carlinesque. Lots of cuss words, and rude ones, too. He describes today's Americans as:
… lumbering through the malls like a fleet of interstate buses… carrying backpacks so their hands can remain free at all times to hold food…
Don't hold back, George, tell us how you really feel!
Your responses and feedback are welcome!
Source: "Local 10-year-old comes up with 'Workout Kid' DVD," AJC.com, 09/10/11
Source: "About the author," notfatbecauseiwannabe.com
Source: "Eddie's Shape-Up Beats Maggie's Diet," Slate, 08/26/11
Image of Workout Kid DVD is used under Fair Use: Reporting.