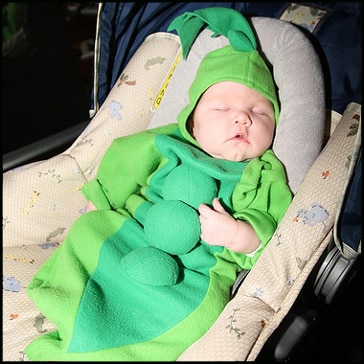 The variety of Halloween costumes available for babies is amazing. Here are only a few of the food items a baby can be disguised as: taco, banana, chili pepper, hamburger, hot dog, pizza slice, lobster, roast turkey, ketchup packet, gingerbread man, Tootsie Roll. It wasn't easy to find a picture of a baby dressed up like a vegetable.
Dr. Pretlow says,
Changing Halloween would be a godsend for overweight kids and do a lot for prevention of sugar addiction in youth.
He has found that Halloween "treats" definitely contribute to childhood obesity, both in getting kids hooked on highly pleasurable food and in sabotaging their efforts to control their weight. Weigh2Rock has polled obese kids about this, and found that Halloween is one of their worst days. In another poll inquiring about the biggest problem foods, chocolate and candy were at the top of the list. And Halloween is all about candy. Could it be any other way, and still be fun?
Jill Escher, author of Farewell, Club Perma-Chub: A Sugar Addict's Guide to Easy Weight Loss, believes that a sugarless holiday is totally possible. A list of Halloween solutions can be found at the website named for her project, Sugar Addiction Awareness Day (SAAD). Please do proceed to the SAAD site for a ton of awareness-enhancing and consciousness-raising info about this very widespread form of food addiction.
Meanwhile, we share some of the alternatives here:
• Instead of candy, hand out pencils, toys, books, stickers, glow-in-the-dark sticks or necklaces, masks, fortunes without the cookies, funny jewelry, small school supplies, quarters, or other fun alternatives.
• Hand out rubber wristbands/bracelets or buttons with custom messages such as 'I'm a Sugar-Free Kid' or 'Say Boo to Junk Food.'
• Work with other families on your block to turn yours into a candy-free street.
• Take the 'Sugar Is Spooky' Challenge and have your whole family go sugar-free on Halloween and the following week.
Elsewhere on the site Escher tells how the sugar-free Halloween idea got started, and, incidentally, quotes Dr. Pretlow:
Kids eat junk food because it tastes good and is readily available, but, in the process their brains develop changes to keep the behavior going, which eventually may result in being unable to stop eating the foods, i.e., an actual addiction.
Here's a video interview, conducted by Kimberly Chase, with the coordinator of SAAD, in which Escher laughingly asserts that Sugar Addiction Awareness Day being the day before Halloween is purely coincidental. She does hope it will catch on, and is encouraged by the physicians, clinicians, nutritionists, and researchers who have volunteered to help out.
Many notable individuals are supporting Sugar Addiction Awareness Day, including Nicole Avena, Connie Bennett, Zoe Harcombe, Ashley Gearhardt, Gary Taubes, Jacob Teitelbaum and, of course, Dr. Pretlow.
Your responses and feedback are welcome!

Source: "How to Participate," SugarAddictionAwarenessDay.org
Source: "Jill Escher, Author, Farewell, Club Perma-Chub," YouTube.com
Image by Invisible Hour, used under its Creative Commons license.