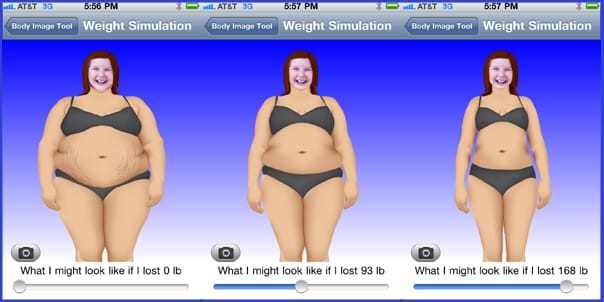 There is overweight, and then there is perception of overweight. This is one of the areas investigated by the National Health and Nutrition Examination Survey (NHANES) program which, under the auspices of the Centers for Disease Control and Prevention, uses both physical exams and interviews to assess the health and nutritional well-being of people in the USA.
In 2001, NHANES established a baseline which subsequent results are compared to. Between 1999 and 2004, for instance, the researchers discovered that although more people were actually overweight, fewer people saw themselves as being overweight.
Using the NHANES material, Kathryn Foti, MPH; Richard Lowry, MD, MS, set out to examine the trends in perceived overweight among teenagers, both overweight and of healthy weight. Here's what they found:
Among all students and among most subgroups, the prevalence of overweight increased from 1999 to 2007. The prevalence of perceived overweight did not change… Among overweight students, interventions are needed to increase their recognition of being overweight because those who do not perceive themselves as overweight are unlikely to engage in weight control practices.
In other words, more kids were fat, but fewer of them thought so. Young black men appeared to be the only subgroup in whom consciousness of their own overweight status had increased.
Parents are wearing blinders, too. Research from Canada indicates that the country's childhood obesity statistics are inaccurate when data from parents is used. Here's the problem:
A determination of obesity is based on a height-to-weight ratio, so when one of the data sets is wrong, it can skew the results… The study found that on average, parents underestimated their child's height by 3.3 centimetres and weight by 2.4 pounds… It also found that many children whose weight was under-reported were in fact obese, while those who height was under-reported were erroneously classified as being obese.
One of the conclusions to be drawn from all this is, doctors need to take on the responsibility of pointing out that pounds need to be lost, says Katherine Hobson in The Wall Street Journal. Hobson is the publication's health and medicine reporter and lead writer for its Health Blog. We are told in a profile of the journalist compiled by Anna Marevska that Hobson has previously covered health news for U.S. News and World Report, and has also worked for Bloomberg News, TheStreet.com, and other news outlets.
Hobson states that a doctor who hangs back and hesitates to mention the overweight problem is not doing patients any favor, and being told by their physician that a problem exists acts as a motivational factor for patients to address the issue. Speaking of the NHANES survey, she says,
Only 45% of participants qualifying as overweight said they'd ever been told that by a physician. Among those with a BMI qualifying them as obese, 66% reported being told by a doctor they were overweight.
Part of the difficulty is that, since a large part of the population is now overweight or obese, people look around and compare themselves to family members and neighbors, and figure, "I'm not so bad." So a health care professional cannot take it for granted that a patient has enough self-awareness to know what's going on.
Hobson says,
Getting an honest assessment from a physician appeared to be a key factor in whether or not study participants considered themselves overweight. Almost 37% of people whose body mass index indicated they were overweight but who didn't report hearing that news from a physician didn't think they had a weight problem.
Speaking of perception, we have been looking at the new iPhone app (PDF) developed by Dr. Pretlow, and one of its features (see the illustration above) is a pictorial representation of how a child or teenager would look after dropping a certain number of pounds. The child or teen can paste their own picture onto different bodies and get some positive motivation for making changes in lifestyle.
There is also a "Weight Data" section that gives the user a detailed progress report, such as,
… Since your last posting, 4/01/11 ( 12 days ago), you have lost 4 lb, which is a rate of 2.1 lb per week. Therefore, you are losing faster than your chosen rate of 2.0 lb per week. Your BMI is 39.7…
Obviously, nobody here is anti-professional. Doctors, nutritionists, dieticians, coaches, and mentors are all vitally important and will continue to be. But in the accountability department, the buck stops directly in front of the individual. Sure, a person can be disadvantaged by one or more of the many contributing factors to obesity, some of them not understood or even discovered yet.
But once they reach a certain age — say, old enough to operate a mobile phone — people do need to be responsible for themselves and take control of their health destiny. This iPhone application is a potent tool for the empowerment of the individual. And it's especially true for the individual who has faced up to the reality of food addiction.
Dr. Pretlow says,
The iPhone app is based on the substance dependence treatment model. That's the model we're going to have to come up with until society changes its orientation to the highly pleasurable food that's out there. It's going to take a major cultural shift, much more than tobacco even.
The iPhone app is a long-term tool for people who are serious about helping themselves. We can't all go to weight-loss camp or get into a 12-step program or book ourselves into a rehab center. But lots of people have iPhones, especially the young ones. Combined with such a useful application, these personal phones can be an agent for revolutionary change.
Your responses and feedback are welcome!

Source: "The change in weight perception of weight status among the overweight: comparison of NHANES III (1988-1994) and 1999-2004 NHANES," ncbi.nlm.nih.gov, 02/12/08
Source: "Trends in Perceived Overweight Status Among Overweight and Nonoverweight
Adolescents," archpedi.ama-assn.org 07/10
Source: "Parental perceptions skew kids' obesity rates," CTV News, 08/17/11
Source: "People May Not Know They're Obese Unless a Doctor Tells Them," The Wall Street Journal's Health Blog, 02/28/11
Source: "Katherine Hobson — Lead Writer, Health Blog; Health and Medicine Reporter, The Wall Street Journal," navigator.cision.com, 06/03/10
Source: "An iPhone App Intervention for Childhood Obesity, Based on the Substance Dependence (Addiction) Model" (PDF), Weigh2Rock.com