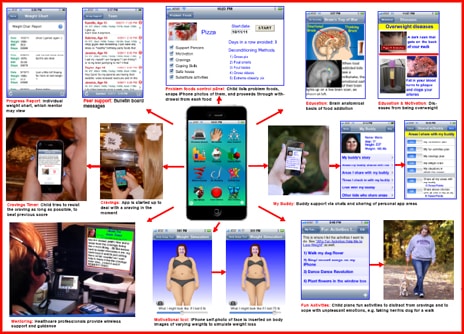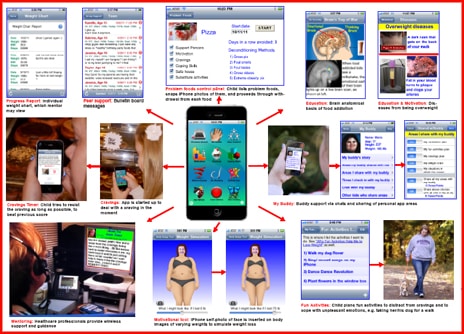 Of course, kids and teens are crazy about social networking. The need for social approval and interaction is deeply ingrained. Its dark side may show up as the type of unwholesome peer pressure that can lead to undesirable behavioral outcomes. But the bright side of the human need for other humans is the therapeutic value of sharing experiences and forming mutual aid groups for support in a tough enterprise. Shedding a food addiction is a project in which anyone, young or old, needs all the help they can get.
But the social networking aspect is only one of the many intriguing features of Dr. Pretlow's new iPhone app. This promising application made its debut on October 14 before the American Academy of Pediatrics (AAP) National Conference, where Dr. Pretlow has introduced it to the "Ending Childhood Obesity in a Generation" symposium.
The AAP convention emphasized the theme of ending obesity within a generation. Topics covered by the various speakers included current research and recommendations in the treatment of childhood obesity, office-based approaches (such as motivational interviewing and cognitive behavioral counseling), and the necessity for partnership between pediatricians and dieticians.
In case you were not able to attend, all the information on the iPhone app presentation is available in PDF format. The concept originated from looking at the childhood obesity epidemic through the psychological food dependence-addiction lens, which shows a clear picture of rampant food addiction.
Dr. Pretlow says,
Breaking food dependence necessitates that they go through withdrawal (abstain) from each problem food, one at a time, similar to coming off cigarettes or a drug. Withdrawal symptoms, e.g. intense cravings and irritability, typically subside in 2-3 weeks. In parallel with withdrawal from problem foods, obese children must learn to cope with unpleasant emotions, such as sadness, stress, and boredom, without turning to pleasurable foods for relief (comfort eating), the basis of food addiction.
All of this has been explored in much more detail in Dr. Pretlow's "Addiction To Highly Pleasurable Food as a Cause of The Childhood Obesity Epidemic: A Qualitative Internet Study," published this summer in Eating Disorders: The Journal of Treatment and Prevention. More recently, Dr. Pretlow elaborated on the impetus for developing the iPhone application, relative to preparations for Sugar Addiction Awareness Day, saying,
Kids eat junk food because it tastes good and is readily available, but, in the process their brains develop changes to keep the behavior going, which eventually may result in being unable to stop eating the foods, i.e., an actual addiction.
Sure, the iPhone app can't be as comprehensive or effective as full-time therapy or a residential rehab program, or 12-step program. But since it is relatively inexpensive and available to even very young kids, there is a good potential here to avoid the need for those modalities further on up the road. It's called an "Intervention for Childhood Obesity, Based on the Substance Dependence (Addiction) Model," but it's less of an intervention than a self-empowerment method. Such a potent tool in the hands of children could have a revolutionary effect.
Pediatricians interested in a randomized control trial are invited to contact
Robert A. Pretlow, M.D., MSEE, FAAP, at: 206-448-4414 or

Your responses and feedback are welcome!

Source: "Pediatricians aim to end childhood obesity within a generation," FirstScience.com, 10/14/11
Source: "October 30 Marks First Annual 'Sugar Addiction Awareness Day,'" PRWeb, 09/26/11