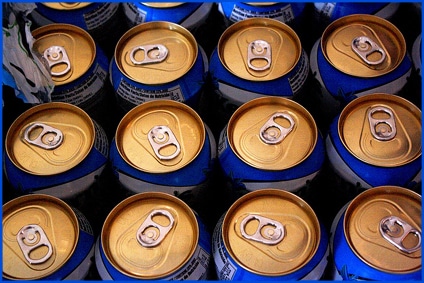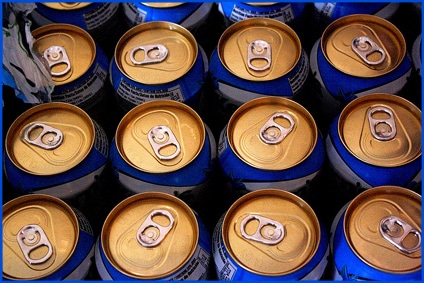 Surely, nobody thought we were done with the subject of SSBs? Not hardly. Those initials stand for "Self-Sabotage in a Bottle."
Just kidding. They stand for sugar-sweetened beverages, and that's shorthand for all of them, whether fizzy or non-carbonated, and fruit juice, and sports drinks, and powdered stuff that you add sugar and water to and mix up yourself, and the ones jazzed up with artificial sweeteners. The American Beverage Association (ABA) and its constituents are still in denial about the connection between their products and childhood obesity.
This organization has a long name that expresses a clear agenda: the American Alliance for Health, Physical Education, Recreation, and Dance (AAHPERD). What it wants is for people to move. In a study it did, involving 221 third-graders, the AAHPERD National Convention found this:
87 were identified as overweight
58 were identified as at-risk
76 were identified as healthy.

The test showed a significant difference in soda consumption between children identified as overweight and those identified as healthy.
So says Paddy Downey, who adds:
This Study shows direct correlation of childhood obesity with increased consumption of soda.
The journalist also passes along some frightening facts. The average teenager drinks 750 cans of soda per year! Since some drink very little soda, or none, that means a bunch of kids out there are guzzling even more than 750 cans per year, in order to come up with that average number.
How about this for a horror story? Downey says that drinking a 20-ounce bottle of the stuff for a year can cause a 25-pound increase in weight. But it gets even worse:
Children who habitually drink soda not only increase their daily calorie intake but also decrease the amount of essential nutrients they receive, ie. soda takes place of milk therefore replacing essential calcium needed for growing bones.
The food industry in general seems to be feeling very defensive these days, and that applies especially to the corporate behemoths of the soda pop industry. The SSB magnates believe their products are being aggressively misrepresented, aka demonized, and it especially annoys them that taxpayer money is being used to study and warn against soda pop.
Well, it's the taxpayers who end up paying the bill for all the dreadful health consequences that are showing up thanks to a couple of generations of non-stop soda-guzzling. So why shouldn't the government allot some funds to the problems of childhood obesity and obesity in general? But no, the corporations would prefer to be the ones funding the studies. Many people see this as not altruistic, but manipulative.
Reuters reporters Lisa Baertlein and Dan Levine teamed up to write a piece describing the wrath of the American Beverage Association:
The soda industry, which says it is defending its products from 'baseless' attacks, and its attorneys have filed at least six document requests with public agencies from California to New York. Anti-obesity advocates say the requests — which can take hundreds of staff hours for cash-strapped governments to satisfy — come from the tobacco industry's playbook.
In California, Santa Clara County has an educational program called "Rethink Your Drink." The local public health director, Daniel Peddycord, told the reporters,
This is one of the things where the science is really clear … Americans are consuming far, far, far too much sugar.
Nevertheless, legal papers were served, demanding all the records pertaining to that campaign, and the same thing happened to county-level SSB education programs in Seattle and Chicago.
The Baertlein and Levine story is called, "Exclusive: Soda makers escalate attacks over obesity," and here's the part that will make your hair stand on end. In 2007 and 2008, the coalition of Pepsi, Coke, and the ABA spent $8 million in state capitals and Washington trying to influence lawmakers. In the following two-year period, they upped their lobbying budget to a whopping $60 million! If that figure is right, it represents a more than 700% increase. They didn't sell enough soda pop in 07-08, so in 09-10 they spent over seven times as much money oiling up the legislators so they could sell more soda pop.
That number sounds so outrageous, can it possibly be correct? Could the venerable Reuters organization have made such an error? But then again, the title does use the words "escalate" and "attack" for a reason. This is a threat situation. Industry consultant Tom Pirko indicates that the ABA views the obesity issue as a "kind of Armageddon," saying,
What's happening now is that we're seeing a much more active industry that's looking at fighting back now as opposed to just simply trying to make nice.
Your responses and feedback are welcome!

Source: "Soda Consumption and Childhood Obesity," Nutrition for the World, 08/07/09
Source: "Exclusive: Soda makers escalate attacks over obesity," Reuters, 07/20/11
Image by MoneyBlogNewz, used under its Creative Commons license.