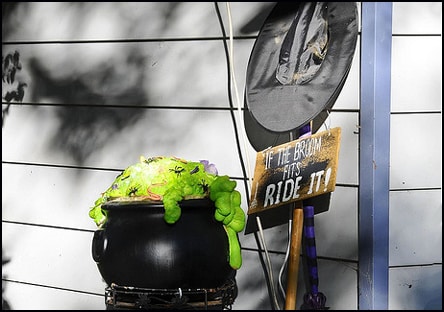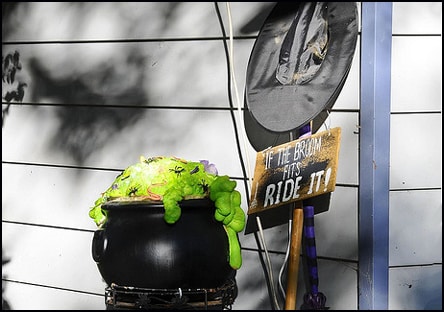 Why does the poor, old soda pop come in for so much verbal abuse? Is evidence of a link between sugar-sweetened beverages (SSBs) and childhood obesity really so overwhelming? And what exudes from the witch's cauldron shown here? Could it be… Boiled-down soda pop? In this little four-minute movie (link above), a fellow called Marshall Brain does a home science experiment that greatly helps to visualize just how much sugar is in a bottle or can of soda. Yikes!
Salynn Boyles, writing for WebMD about the connection between soda and obesity, and many other things, says,
In the past six months alone, dozens of studies examining the health impact of drinking sugary beverages or diet soda have been published in medical journals. Some suggested a relationship; others did not.
Researchers have been finding too many strokes among people who drink a lot of diet soda, and too much kidney damage, and even some kinds of cancer among people who drink either diet or regular soft drinks. And then there's the hypertension and the diabetes, and the osteoporosis, and the ruination of teeth, and more. Research is finding too much of a lot of things to just ignore it all.
On the other hand, sometimes scientists wish their findings would be ignored, at least until a proper time. At the University of Miami, an epidemiologist named Hannah Gardener, Ph.D., simply read an abstract of an upcoming, unpublished paper at a meeting, and was astonished by the amount of media attention prematurely garnered by this very preliminary material.
Being as careful as possible to control other known risk factors associated with stroke and heart attack, Dr. Gardener's research nevertheless unearthed something scary:
The early findings showed a 48% increase in heart attack and stroke risk among daily diet soda drinkers, compared to people who did not drink diet sodas at all or did not drink them every day.
We have mentioned the tendency of the American Beverage Association (ABA) to complain that nobody is satisfactorily showing it a cause-and-effect relationship. The Association members say all the alleged proof of any problematic link between soda and childhood obesity or any other kind of obesity, or any disease, has been found by researchers who set out with the intention of finding those links, no matter how neutral they may pretend to be. And the mean old journalists will only cover the stories that pretend to find those links, while ignoring any findings to the contrary, and everybody is demonizing the poor, innocent soft drink industry, and blah, blah, blah.
Of course, the soda pop detractors accuse the ABA of the same kind of biased behavior, only pointing to studies that agree with their own previous conclusions. Those who condemn SSBs are also highly suspicious of any studies conducted by anyone who ever had a financial relationship with the food industry. Trouble is, experts who have not interacted financially with some corporation are increasingly thin on the ground.
A meta-study is like a roundup of a whole bunch of relevant studies, whose object is to derive useful conclusions from the sum total of all their findings. Boyles writes,
Sugary soft drinks, in particular, have been shown in many studies to be associated with overweight and obesity, as in a review of 30 studies published in 2006 by researchers from the Harvard School of Public Health. Many of the studies included in that review showed that overweight children and adults drink more sugary beverages than normal-weight kids and adults, and several studies found that the more sugar-sweetened drinks people drank the greater their likelihood of becoming overweight.
Of course, the soda pop industry does not find acceptable any sort of a study that relies on faulty human memory for its results. If a patient weighs 350 pounds at the present time and recalls drinking several liters of soda pop every day for the last 10 years, well, people can be mistaken. Memory is unreliable. Unless an impartial observer was watching every day and keeping track, there is no way to prove that the obese person really absorbed an ocean of SSBs. Why should we take his or her word for it? And, besides, that still doesn't add up to proof…
To be continued…
Your responses and feedback are welcome!

Source: "How much sugar is in a can of soda?," YouTube.com
Source: "Sodas and Your Health: Risks Debated," WebMD, 10/09/11
Image by Valerie Everett, used under its Creative Commons license.