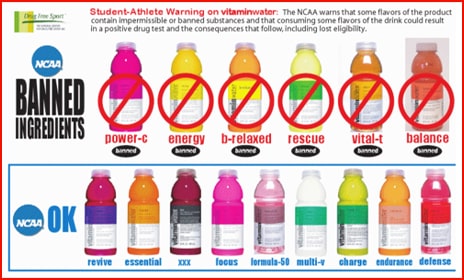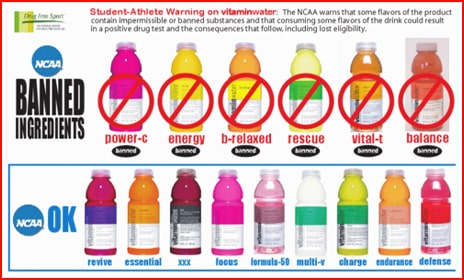 Did we mention that Coca-Cola manufactures 3,500 different beverages? Earlier this year, the company was scolded for how it marketed the drink called "Vitamin Water." The labels are so plain and subdued in design, the product appears to be bottles of IV solution. Very reputable-looking, although some of the colors are a bit vile. Fruit-flavored, and yet fruitless. And containing five teaspoons of sugar per bottle, or about ¼ of a person's recommended daily sugar limit.
In January, Britain's Advertising Standards Authority banned the company from using the word "nutritious" in Vitamin Water advertising. James Tozer of the Daily Mail reported,
Yesterday advertising watchdogs banned makers Coca-Cola from boasting that the water is a 'nutritious' drink. It is the second time in little over a year that the firm has been censured for claims about health-giving properties of the drink…
A few days later, on our side of the pond, the National Consumer League (NCL), which is headquartered in Washington to have easier access to lawmakers, filed a complaint with the Federal Trade Commission. Bret Hovell and Lara Salahi reported on this for ABC News, and this is interesting because, contrary to the relatively somber, retro look of its label, Vitamin Water is said to be associated in the minds of the public with light-heartedness. The reporters quote a corporate statement:
Vitamin Water has always had a fun, humorous and engaging personality, and our ads reflect that.
The complaint includes a request for that agency to investigate. Presumably, they would be investigating whether the drink can really stave off a major communicable disease, as Vitamin Water's advertising seems to claim. Exhibit A, in the NCL's view, is the slogan,
Vitamin Water: Flu shots are so last year.
In itself, that doesn't resemble a serious medical claim as much an example of the brand's vaunted "fun, humorous, and engaging" style. It's just another typical attempt by advertisers to reach consumers who like to think of themselves as au courant. It's aimed at the human urge to be the first kid on the block to have the new gizmo, and the equally ingrained desire to be hip.
Flu shots are for grannies, that's why the church's senior council arranges for shot clinics that are mobbed every year by the geriatric set. If you're young and kewl, you protect your health by swigging Vitamin Water instead. That's the subtext of the mindset they want to create.
The irony is, to say something is "so last year" makes the slogan itself "last year." But the marketers don't realize that, and neither do the targets of the ads, so everything works out to the mutual satisfaction of sellers and buyers.
And, speaking of last year, that's when Coca-Cola raked in $700 million for Vitamin Water, which is described as one of the most popular sports drinks. Yikes! How many obese kids drink this stuff, in the hope that it will help them become fit and slim?
As for its usefulness, the reporters consulted their network's chief health and medical editor, Dr. Richard Besser, learning that while Vitamin C and zinc may have some influence on flu suppression, the shot is the best way to prevent it, and, furthermore, plain water is the very best way for athletes to hydrate their systems.
As for the sweetening, the story goes on:
Although the Vitamin Water label indicates 50 calories per serving, one bottle amounts to 2.5 servings, which adds up to around 125 calories. One regular-size bottle of Vitamin Water also contains nearly 30 grams of sugar. 'For that, you may as well have a Hershey's milk chocolate bar, which has only 24 grams of sugar by comparison,' said Besser.
Sports drinks in general have fallen under suspicion from nutritionists, but that's a story for another day. We only mention that Vitamin Water has been blamed for causing student athletes to fail their prohibited substance tests. Food addiction, anyone? The poster shown here was created by the National Collegiate Athletic Association and sent out to locker rooms across the nation.
Your responses and feedback are welcome!

Source: "Coke 'health' drink… with five teaspoons of sugar in it," DailyMail.co.uk, 01/19/11
Source: "Consumer Group Demands Crackdown on Vitamin Water Advertising Claims," ABCnews.go.com, 02/03/11
Source: "Vitamin Water to Blame for Athletes' Positive Tests?," BlackSportsOnline.com, 02/09/09
Image of NCAA Banned Ingredients is used under Fair Use: Reporting.