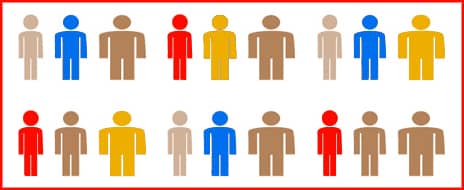 We have talked about how parents enable the dependency on hedonic foods by keeping junk food around the house. Unfortunately, that's not the only way in which careless or misguided parents can hurt their children's chances for a long life with a healthy body mass index.
In Overweight: What Kids Say, Dr. Pretlow asks a question and wonders aloud:
Some parents literally seem to block or sabotage their child's efforts to lose weight. Why would parents do this? Perhaps these parents struggle with their weight themselves and have no motivation to tackle their own issues, let alone their child's. Hence, parents may support, ignore, or even obstruct their kids' weight loss efforts.
Whatever the reason, it's often the case that parents could do a better job. Way back in 2004, Moria Golan and Scott Crow (of the The Hebrew University of Jerusalem and the University of Minnesota, respectively) reported on a small but long-term study of childhood obesity. They were interested in the difference between teaching only parents about healthful eating, and teaching only children. Or, as the researchers phrased it:
The purpose of this paper is to report the long-term outcome in overweight children following a family-based health-centered approach where only parents participated in the group sessions (parent-only group) compared with a person-based intervention where only the children participated in the group sessions and the family environment was not directly targeted (children-only group).
The team quotes other authorities too, on the subject of how many benefits have been found to result from parental involvement, and more so when just the parents are intervened with, rather than just the children.
The researchers say,
A family-based, health-centered approach that targeted solely parents was found to induce greater weight loss in obese children at treatment termination and at 1-, 2-, and 7-year follow-up visits. The differences between the groups were statistically and clinically significant at each time-point… Family-based intervention is implemented on the premise that parental support, family functioning, and home environment are important determinants of treatment outcomes. These interventions emphasize the necessity of making changes in the home and family environment.
That seems pretty clear. Yet, apparently, the concept of educating parents is not universally accepted, and the idea of treating parents is even less so.
Only a few weeks ago, Dr. Arya M. Sharma asked the question, "Should Childhood Obesity Programs Treat the Parents?" He also spoke some strong words:
… [W]e have yet to see any childhood obesity intervention translate into lower rates of adult obesity.
However, there is increasing evidence that adult obesity intervention can translate into lower rates of childhood obesity. In other words, a focus on parents might hold the key to solving a large part of the childhood obesity epidemic. Parents need to be not just involved, but encouraged to seek help for their own eating disorders.
Dr. Sharma says,
Whatever is causing obesity in today's adults is likely to be the very cause of obesity in their offspring. So if adult obesity is in fact the 'root cause' of childhood obesity, then the only hope to address this root cause would be to perhaps treat the parents… This, of course is where things get difficult, because the drivers of weight gain in the parents may not be that easily amenable to change.
Your responses and feedback are welcome!
Source: "Targeting Parents Exclusively in the Treatment of Childhood Obesity: Long-Term Results," Nature.com, 2004
Source: "Should Childhood Obesity Programs Treat the Parents?," The Huffington Post (Canada), 6/21/11
Image by FoodandYou, modified and used under its Creative Commons license.