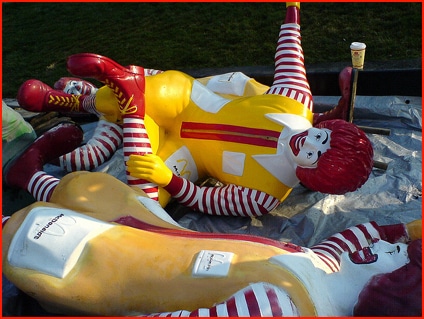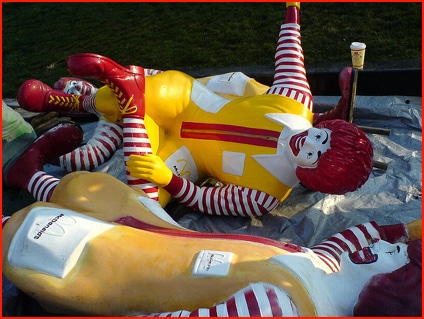 Back about a year ago, we looked at the efforts being made to boot Ronald McDonald out of his job as spokesclown for fast food, especially when kids are the audience. After the company had denied that Ronald sells food to kids, Corporate Accountability International invited parents across the country to send photos of Ronald doing just that. Photos were obligingly sent to the website, of the clown in such places as schools and hospitals.
In February of this year, the same group's "Value [the] Meal" campaign collected signatures and held demonstrations to try convince McDonald's to retire the clown. And, by the way, to cease whatever else it's doing to market junk food to the little targets with the big eyes and curious minds, our kids.
The website Stop Corporate Abuse published a statement from Deborah Lapidus, director of the "Value [the] Meal" campaign. Lapidus said,
Today we are here at the Greater Humboldt Park Community Diabetes Empowerment Center on the eve of McDonald's annual shareholders' meeting to announce a national initiative, led by health professionals and institutions, urging the burger giant to stop marketing junk food to children…. McDonald's fast food and its marketing are exacting a crippling human toll…
"An open letter to McDonald's CEO Jim Skinner" was published with the endorsement of 1,700 health professionals and institutions. Among many other things, it says,
McDonald's and industry front groups have refused to address the dangerous toll that fast food and predatory marketing is taking on our kids. While acknowledging that fast food is unhealthy, you pin responsibility for the epidemic of diet related disease on a breakdown in parental responsibility.
Around the same time, a company called Ace Metrix was hired to assess the public appeal of the new McDonald's commercials, Christina Rexrode told The Huffington Post, and quoted Ace Metrix vice president Jack McKee:
'It's really remarkable how often I saw the word 'creepy" in the survey comments…
For The Consumerist, Ben Popken put together a fascinating video-clip history of how Ronald looked at different stages of his career, when he was personified by actor Willard Scott, and the company was trying to figure out just what kind of an image Ronald should project. It's pretty funny and, yes, a bit creepy.
At the corporation's annual meeting in May, CEO Jim Skinner held his ground and declared,
Ronald McDonald isn't going anywhere.
The opinion section of The New York Times published a satirical piece by Yoni Brenner, imagining what Ronald McDonald's exit interview, conducted by someone from the Human Resources Department. After upholding his denial, Ronald finally has an epiphany:
You wanna know the hardest part? They're right. (slaps his knee) They're totally right! Maybe it didn't seem so bad in the '60s, but today? With everything we know about sodium intake and LDL levels? And let's not even talk about factory farming! Who are we kidding? They're not 'Happy Meals,' they're 'Gateway Meals!' (shaken) I'm a monster.
Now, when the "Gateway Theory" is mentioned, that means what is really being discussed is something addictive, like a drug. Or like sugar, which science has made a pretty convincing case against as the primal "gateway substance" of all time. That's substance, as in "substance abuse," which is another way of saying "food addiction."
In other words, in this parody, the imaginary fast-food iconic clown figure is laying out the implication that fast food has certain similarities to addictive drugs. Which is exactly what many health advocates believe to be the case in real life. But despite efforts to sideline him, Ronald McDonald is still out there.
Your responses and feedback are welcome!

Source: "Statement – Deborah Lapidus, Value [the] Meal campaign director," StopCorporateAbuse.org, 05/18/11
Source: "An open letter to McDonald's CEO Jim Skinner," LetterToMcDonalds.org
Source: "Ronald McDonald's Midlife Crisis," The Huffington Post, 05/17/11
Source: "Original Ronald McDonald Was Really Creepy," The Consumerist, 06/02/11
Source: "McDonald's defends its right to advertise to children," Los Angeles Times, 05/19/11
Source: "Ronald's Exit Interview," The New York Times, 06/10/11
Image by gregw66 (Greg Willis), used under its Creative Commons license.