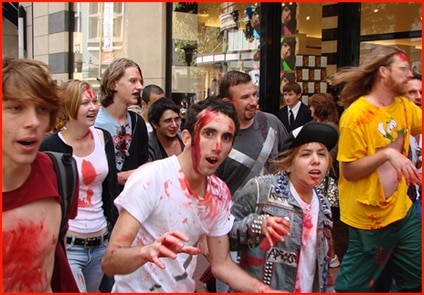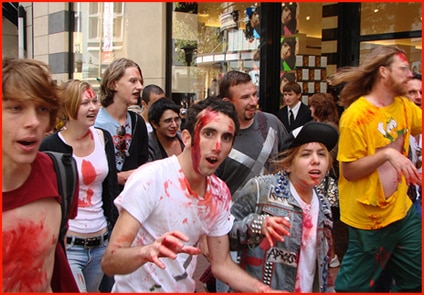 Even though it has a plural name, the Centers for Disease Control and Prevention is one big federal agency — a big federal agency with a sense of humor. Just a couple of months ago (May 2011), a Public Health Matters blog post written by Ali S. Khan with the collaboration of Dave Daigle, associate director for communications, appeared on the CDC website.
The mission was to warn the public to gear up for hurricane season, and the creative team wanted something that would make people sit up and take notice. The "Zombie Apocalypse" attracted far more attention than the agency was accustomed to.
It said,
The rise of zombies in pop culture has given credence to the idea that a zombie apocalypse could happen. In such a scenario zombies would take over entire countries, roaming city streets eating anything living that got in their way. The proliferation of this idea has led many people to wonder 'How do I prepare for a zombie apocalypse?'

Well, we're here to answer that question for you, and hopefully share a few tips about preparing for real emergencies too!
The post garnered tweets like the royal wedding, and more than a million Twitter followers. Its popularity crashed the CDC website. Going for the media-savvy youth demographic got the job done and the message delivered: Be prepared!
Usually, the activities of the CDC are more staid. In the course of talking about the Let's Go! Initiative, we described how the CDC was taking an experimental approach, dividing up $257 million between 39 communities with good ideas about problems like childhood obesity. The idea is to try out programs and see whether they work, in terms of actually helping people leave behind harmful lifestyles and develop new behaviors.
And what has the CDC been up to lately? In April, it came out with the "Children's Food Environment State Indicator Report, 2011," which is available from the government site in PDF format.
Medical News Today gave an overview, and the main thing to know is that Dr. Thomas Frieden, Director of the CDC, confirmed that childhood obesity has tripled in the past three decades. The article explains the scoring system used to compare states, the Modified Retail Food Environment Index (mRFEI). If your state has a low number, that's bad, and a high number is good.
Here is an excerpt:
Scores can range from 0 (no food retailers that typically sell healthy food) to 100 (only food retailers that typically sell healthy food). States with lower mRFEI scores have more food retailers, such as fast food restaurants and convenience stores, that are less likely to sell less healthy foods and fewer food retailers, such as supermarkets, that tend to sell healthy foods, such as fresh fruits and vegetables.
Now, bear in mind that the CDC is located in the state of Georgia, and see if this part isn't interesting:
The report shows that as of December 2008, only one state — Georgia — had enacted all of the following state licensure regulations for child care facilities: to restrict sugar drinks, to require access to drinking water throughout the day, and to limit TV and computer screen time.
How did that come about? Is it because citizens of Georgia are more enlightened, perhaps because so many of them work for the CDC? Is it because the CDC has clout with the state legislature? A combination of both? Access to water, limited access to sugar-sweetened drinks, and limited screen time — those are reasonable rules. If these child care license regulations are good and helpful toward reducing childhood obesity, let's hope that more states will incorporate them in their rules.
Your responses and feedback are welcome!

Source: "Social Media: Preparedness 101: Zombie Apocalypse," CDC.gov, 05/16/11
Source: "CDC Report Highlights Lack Of Healthy Food Environments For Children," MedicalNewsToday.com, 04/27/11
Image by jerekeys (Jere Keys), used under its Creative Commons license.