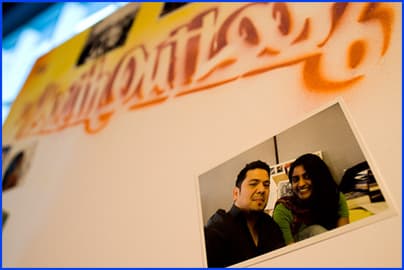 We have looked into Faze Magazine, among others, and today's project is to poke around a bit more in the Open Directory's list of teen magazines and e-zines. When talking amongst themselves, what do teenagers say about obesity?
The well-established print publication Youth Outlook is about teenage lifestyles in the San Francisco Bay Area, and the whole concept is multicultural, and not only that, but subcultural. This is not about the mainstream, but the many streams, and even the rivulets, that eventually all combine into one stream. There is also an online edition, and the immediate attention-grabber there is a piece called, "Tell Us Why Soda Sucks and Win $1,000!!!"
Yes, Youth Outlook recently held a contest, open only to people between ages 14 and 21, with five first prizes of $1,000 each. The results, to be announced soon, are bound to be fascinating. The idea is for each participant to pitch their strongest message about the damaging effects of soda pop and other sugar-sweetened drinks (SSDs). The magazine asked for entries in formats that show up well on social media, such as a design for a poster or sticker; a photo of a mural or other street art; a rap or spoken word audio recording; or an animated or other style of video clip.
The winning entries will form the basis of a "youth driven guerrilla marketing campaign." These young people are especially sensitive to, and resentful of, the efforts of advertisers to target them as consumers via their ethnicity.
The contest's guidelines are inspiring, and worth reproducing in their entirety, the better to admire their underlying spirit and high degree of awareness:
Things that soda advertisers forget to mention:
• A 'mega jug' of Pepsi is a half-gallon of soda that contains a full cup of sugar. Would you sit down and eat a cup of sugar?
• 62% of youth age 12-17 drink at least one soda a day.
• The evidence is clear — drinking sodas and sugary drinks is linked to obesity.
• Obesity is an epic health crisis. Kids today are not expected to live as long as their parents due to health problems associated with obesity.

Soda advertisers want YOU. And here are some ways they are trying to get to you:
• Sprite wants multicultural youth age 13-24 to drink their soda. To get to you, they have created a new mobile music app called Zoozbeat Sprite that gives you new beats when you enter Sprite cap codes through text messages.
• Coke and Church's Chicken have joined up to target urban youth through a campaign through which you can earn discounts and be entered into contests by sending in text messages. 'Our goal is to find a place ahead of the curve by exploring newer means of communications to target the young, multicultural segment,' said a Church's chicken spokesperson.
• Mountain Dew recruited African American comedian Jerry Brooks to sell its soda to young men. Using videos on YouTube and a lot of social media (they have 4.5 million Facebook fans), Mountain Dew asked for your help in helping to pick its new sugary flavors of soda.
And then there are some more specific suggestions:
Outsmart the advertisers! Create a rap, video or art work and talk back to marketers that want you to drink gallons and gallons of soda, no matter what it does to your health.
Hey, kids, don't hang back… Tell us how you really feel. Joking aside, isn't this mixture of passion and intention just splendid? It's enough to give any baby boomer a renewed hope for the future of the world. The place may end up in good hands, after all.
Your responses and feedback are welcome!

Source: "Kids and Teens: Teen Life: Magazines and E-zines," dmoz.org
Source: "News," YouthOutlook.org
Source: "Tell Us Why Soda Sucks and Win $1,000!!!," YouthOutlook.org, 07/07/11
Image by pnsnam (New America Media), used under its Creative Commons license.