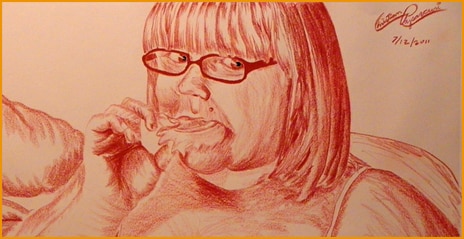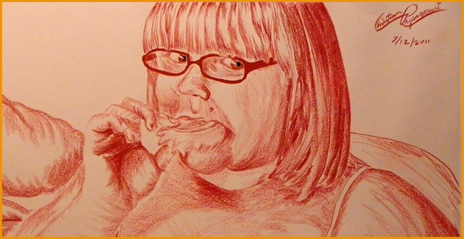 Of course, an inestimable amount of totally informal communication between teenagers goes on all over the electronic universe. Surprisingly, some have not abandoned the conventions of print publications, even if their publications only exist online. The content, generated by teens, is vetted, organized, and structured into traditional magazine format. Open Directory offers a list of 34 such publications.
Faze Magazine, for instance, exists both as a print publication and an online magazine. It covers social issues, technology, pop culture, sports and fitness, and entertainment. It follows the old ways to such an extent, it even has a book review page. Searching the site for "obesity," we found 12 references.
One is an interesting article about actress Hilary Duff, who has adopted childhood obesity as one of her causes. Written by Alicia Cox, the piece appears in Issue #22. Here is an excerpt:
Hilary has also recorded an antiobesity public service announcement for American radio, which encourages children to eat right and exercise. 'It is important for people to understand the health risks involved with obesity and how pertinent it is to eat healthy and exercise, so that you will be able to enjoy a long fit life,' she explains.
In the Creative Writing section, we find a poem by 17-year-old Val M. It's a set of substitute lyrics to the Billy Joel song, "Since the World's Been Turning," and here is one verse:
Election 2004, Taliban, Mandy Moore
Trench Coats, Phen-Fen, Mary Kate, X Men
Colon cancer, Mini Me, childhood obesity
Freedom fries, Stem cell, Kathy Lee, Chanel
The poem is basically a list of some of the many issues, people, disputes, advertisements, and fears by which children and teens are surrounded and assailed. In fact, one of the personalities mentioned is Kirstie Alley, who is as famous for her struggle with food addiction as for her acting talent. "Low carb" is also mentioned, as are "Lean Cuisine," "Starbuck's," "Cheese Whiz," "Fruit Loops," and "Shrek 2." Aside from its clever execution, the poem carries an important subtext, which directly relates to childhood obesity.
As we know, comfort eating, stress eating, and all the other eating disorders pretty much boil down to the same thing: they are reactions to stress felt by a person. There is even a theory that anorexia is a response to a chaotic world, the intake of food being the one area over which a person can exercise control. Any adult who has ever wondered, "What do these kids have to be so stressed over?," need look no farther for the answer, because it's all here in this poem, which closes with,
Drunk driving for Billy Joel, Joan Rivers, Super Bowl
Laci P. washed ashore, I can't take it anymore!
Your responses and feedback are welcome!

Source: "Kids and Teens: Teen Life: Magazines and E-zines," domz.org
Source: "The Hilary Duff World," Faze Magazine
Source: "Since the World's Been Turning," Faze Magazine
Image by cpaparcuri (Christian Paparcuri), used under its Creative Commons license.