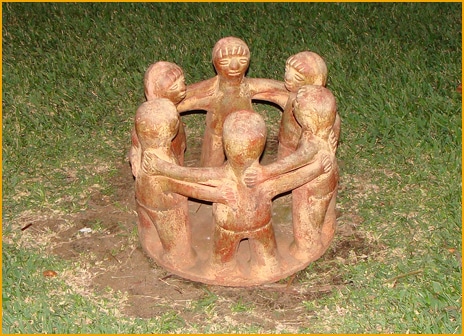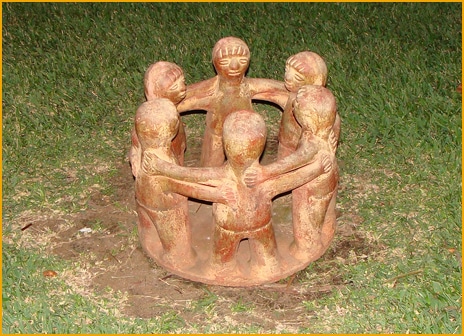 What kinds of suggestions do recovering food addicts pass along to each other through the numerous communication channels that make up the world of social networking? "Fashion Meets Food," suggests a book called 50 Ways to Soothe Yourself Without Food by Dr. Susan Albers, and, especially, a little exercise called "the 5-4-3-2-1 method of counting on your senses," and also recommends worry beads, to keep the hands busy and the mind serene.
The person who publishes "Diary of a Food addict" via Open Salon expresses regret over recent backsliding and reaffirms the necessity of staying with the program:
I need to decide once again that abstinence from sugar, white flour and fast food is the most important thing in my life. Period. When I am in that frame of mind, my life works.
The "Food Addiction Rescue Plan" is the type of thing that people share around. This is for when you're in crisis, just hanging on by your fingernails, trying not to give in to the urge to eat. One of the hints is:
Pick three safe, physical activities you can do instead of giving in to your food addiction. For example, go for a walk outside for 10 minutes, blow bubbles for 3 minutes, or swing a plastic bat at a pillow for 3 minutes.
Or just lie down and breathe deeply. Or take a candlelight bath (an option more attractive to grownups than kids, for sure). The idea is to have a plan set up and in place, a list that will remind you of what to do next when your brain is too fogged by cravings to think straight. "Take a vitamin." "Drink a glass of water." "Brush your teeth."
Dr. Pretlow talks about this in Chapter 15 of Overweight: What Kids Say:
What supportive, distracting things will they do when they go through withdrawal, such as take a walk with their dog or a friend, ride their bike, work on a hobby, shoot basketball, go dancing, take a course, decorate their room, or call a friend?
These suggestions come, by the way, from the kids who respond to Weigh2Rock. Other suggestions are to go rollerblading, or visit a museum or library, or do some volunteer work, especially with pets. Or read a book, or throw a basketball through a hoop, or press your hands together.
A 16-year-old contributed this:
– i read the blubberbuster advice for cravings and it said to hold your hands together. i was like yeah right! that is not going to work for me! but last night i watched my boyfriend eat a reeses sunday and i didn't have a single bite. as simple as it sounds- it works, hey- if you don't have your hands free then you won't grab and eat stuff.
The Weigh2Rock kids have suggested more unusual ideas, like the 17-year-old girl who reinvented aversion therapy (or maybe she had just seen A Clockwork Orange) and suggested eating one of the problematically addictive foods "while staring at a picture of a dirty toilet or… cockroaches."
A long time ago, there was a comic strip in the Sunday papers about a wife named Blondie who wrote things she needed done on slips of paper and put them in the Job Jar. Then when her husband, Dagwood, had time to do a chore, he would fish one of the slips out of the Job Jar.
Wouldn't it be neat to have a little gadget in your pocket that could suggest alternate activities when that "eat" feeling sweeps over you? A whole list of possibilities, and you could either make a rule to do the first one on the list, no matter what — adding a bit more challenge to the process — or just scan down the list and decide on one of the choices, and go do it.
Dr. Pretlow is working on a new idea, which he mentioned at the European Congress on Obesity, where he recently gave a presentation, titled "Addiction to Highly Pleasurable Foods as a Cause of the Childhood Obesity Epidemic." But we can peek at it, too.
Your responses and feedback are welcome!

Source: "Fashion Meets Food," Fashion Meets Food, 05/04/10
Source: "Baby Steps Yet Again," Open Salon, 06/08/11
Source: "Food Addiction Rescue Plan —  Part Two," TeethWiki.com
Image by Karen & Carlos Reyes, used under its Creative Commons license.