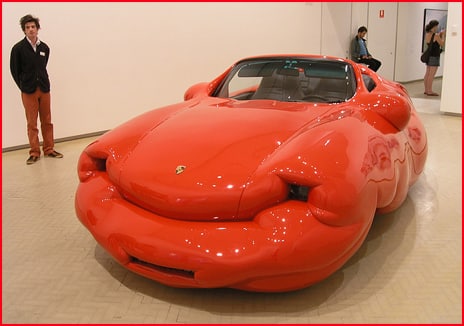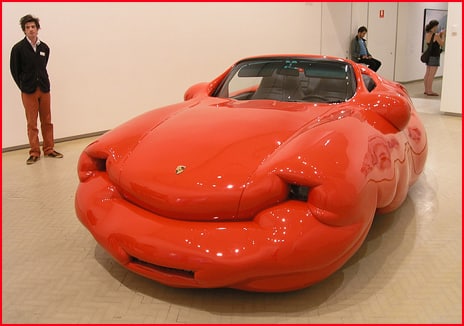 Cars and clothes are two of the things most dear to the hearts of Americans. People actually believe such nonsense as "You are what you drive." And "Clothes make the man (or woman)." So, imagine how unpleasant it must be to weigh 300 pounds in a society that worships hunks of metal with wheels and pieces of shaped fabric that people cover themselves with. Especially when that society incorrectly believes there is something morally wrong with an extra-large human being.
Society also believes, correctly this time, that there is something medically wrong with being extra large, as soon as the accumulated fat starts to interfere with any organ or process of the body. And, if all goes well, everyone in the dangerously obese category will soon be working on the project of themselves, if they aren't already. Meanwhile, for the obese, two of the most commonplace and widely accepted measures of objective worth and self-esteem, cars and clothes, are very problematic.
Here's a side thought. Isn't it ironic that sportswear is the preferred type of clothing for the obese? I mean, when you think of "sports," don't you think of a body that is lean and toned? How strange it is that even an extremely overweight person can find a pair of basketball shorts to fit into, likewise the shirts. And what could be more accommodating to the expanding middle than a nice comfy pair of sweatpants with a drawstring waist?
Anyway, back to the news of obesity's effect on the clothing manufacturers. A recent report from WHEC-TV in Rochester, New York, assures us that the childhood obesity epidemic is "quite a business opportunity." It quotes a JCPenney spokesperson, Linda Peeples, who says that both parents and children are thrilled to find big-enough clothes, and their availability at least helps overweight kids fit in:
JCPenney says it's offered plus sizes for kids for some time, but now it is considered one of the most promising markets in the fashion world… According to Forbes and MarketResearch.com, sales of women's and girls' plus size apparel have become a $47 billion dollar industry.
From Amarillo, Texas, more details emerge in a piece by Meredith Keller, the Pronews 7 morning news anchor, who says,
JCPenney was one of the first to offer larger sizes on the rack, even claiming that the childrens plus sized line is where they have seen the most sales growth. Lands End & Sears have also launched a line of larger youth sizes.
Sharon Silke Carty recently alerted readers to the automotive crisis, the one experienced by people who are too big to fit comfortably into small cars. They get crammed up against the steering wheel, the center console, and even the roof, because the extra padding of flesh is like sitting on a pillow. There can also be a problem with the seat controls and sunroof controls, as well as safety concerns, and probably many other small annoyances.
Even a person who realizes the environmental benefits of small cars is not going to buy one if the cramped space inside makes it undriveable. Carty interviewed a business consultant named Dan Cheng, who was not optimistic about the likelihood of convincing the auto-buying public into smaller vehicles. Carty reports,
Cheng says the number of light trucks — a segment of the car market that includes SUVs, minivans, and pickup trucks — has increased steadily since the 1970s. And so has the percentage of adults in the U.S. who are classified as obese.
Carty also notes that there are several small cars with a pretty good amount of space for the driver to be comfortable in. She names the Honda Fit, Nissan Cube and Versa, and Scion xB, as well as the Volkswagen Beetle. Unfortunately, none of them get particularly good gas mileage, which must be a concern of all auto makers because stricter new federal regulations are scheduled to go into effect.
A think tank called Resources for the Future is interested in reducing obesity because it sees a direct link between obesity and large, fuel-hogging vehicles. If we don't stop using so much of everything now, our grandchildren might be riding horses to work.
However, there is hope. Carty says,
Automakers like Ford are trying to design interiors that keep the bigger population comfortable. Elizabeth Baron, Ford's technical specialist for virtual reality and advanced visualization, says the automaker has recently updated its database of model human sizes to incorporate the growing number of obese adults.
And that is fine, in its way. But rather than hope for an improvement in the comfort of automobiles for the obese, excuse us if we hope instead for the end of the obesity epidemic, and if we insist on pointing out that people would be better off seeking treatment for their food addiction rather than shopping for a roomier car.
Your responses and feedback are welcome!
Source: "Childhood obesity having impact on clothing stores are stocking," WHEC.com, 05/31/11
Source: "Retailers plump up childrens' clothing," ConnectAmarillo.com, 06/02/11
Source: "Are Americans Too Big To Drive Small?," Autos.AOL.com, 05/24/11
Image by Charlie Brewer, used under its Creative Commons license.