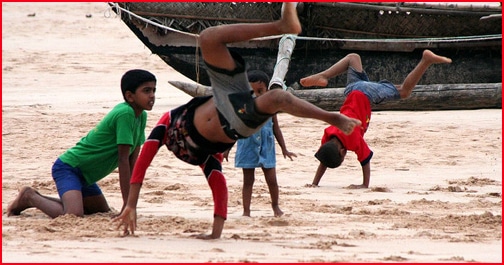 As parents, we have endless opportunities every day to guide our kids, and it would be a shame not to pick up on at least a few of them. Coach Ed Poirier of Attleboro, Massachusetts, recently published a piece called "Letting free range kids do their thing." He brought home the phrase "free range kids" from a health and wellness conference. Poirier writes,
This is how kids used to play and socialize with each other — on their own in a vacant lot, in the woods, or in a friend's backyard. They'd do whatever came up and there was limited adult supervision, if any. If you can remember playing outside and had to come home when the street lights went on, you were a free range kid.
As a coach, of course Poirier believes in and helps set up all kinds of organized sports. He's also interested in the well-being of children and teens who don't go in for organized sports, believing that unstructured outdoor physical play can be "a major ally in the fight against childhood obesity." Of course, kids who can do things like grab a football and collect a few friends to play in an empty lot also benefit in other ways. Poirier sees these informal activities as an excellent laboratory to develop skills in problem-solving, decision-making, and just plain getting along with peers.
The point is, while organized team sports are great, so is informal fooling around without teams, rules, special outfits, or expensive equipment. A lot of schools have organized after-school sessions for both sports and cultural activities, but Poirier urges more school-sponsored free-play opportunities.
Modern life being what it is, and depending on where you live, your kids may not be able to be "free-range" in the same way we remember from our growing-up days. Because of safety concerns, the activity might need to be contained within an institutional setting — but it can still be energetic and relatively unstructured.
Undoubtedly, kids welcome the chance to play with friends in an informal setting. An example that Poirier has seen to be successful is a program begun two years ago in Attleboro, under the shared supervision of Coelho Middle School and the YMCA. They get 30 kids in there twice a week after school, and there is a long waiting list.
Another program in the same town takes place at the Bartek Recreation Center, which is open for two hours after school on weekdays, welcoming kids ages 8-18. Staffed by the Y and the Attleboro Recreation Department, the program sounds very attractive:
Walk into the center and you'll see young people shooting baskets, another group playing soccer, some kids hanging out waiting their turn for ping pong, and others getting ready to race each other up and down the length of the gym. If you look carefully in one corner of the gym, you'll see kids doing handsprings, backbends, and dancing preparing to put on a talent show for each other.
This is a subject we've touched on before, in a piece called "When There Is Nothing to Do but Eat." Another encouraging story comes from Baltimore, with Candus Thomson reporting on some innovative activities at the local St. Agnes Hospital. Dr. Maria Brown was specially trained to work with health care providers, encouraging them to promote outdoor activities for kids, in the interests of preventing childhood obesity and related medical problems.
Thomson says,
Some of Dr. Maria Brown's young patients won't be getting a prescription they can fill at a pharmacy. Instead, they'll be instructed to fill their lungs with fresh air, feel the sunlight on their skin and stretch their muscles in the great outdoors. They will be told to walk around the block, visit a nature center or take a bike ride with their parents.
So there it is, moms and dads — a ready-made assignment. Maybe it's time to reassess safety concerns and decide that it might be safe to let the kids out to romp around like in the old days. Is there a park or playground in your neighborhood? Could you agree with a few other parents to take turns providing a reliable adult presence for minimally supervised playtimes? Does your community have a free-play venue at a school, church, or rec center? If so, sign your kids up today! If not, it's time to figure out what you can do to promote unstructured, energy-burning opportunities for a more active lifestyle. And remember, the good effects of exercise are cancelled out if kids are swigging down gallons of sports drinks, so encourage water as the refreshing beverage of choice.
Your responses and feedback are welcome!

Source: "Letting free range kids do their thing," Attleboro Sun Chronicle, 04/10/11
Source: "Pediatrician has prescription to fight obesity," The Baltimore Sun, 10/07/10
Image by .shyam., used under its Creative Commons license.