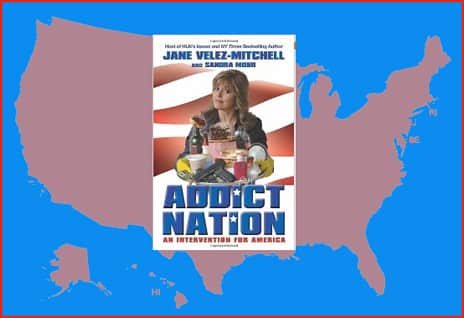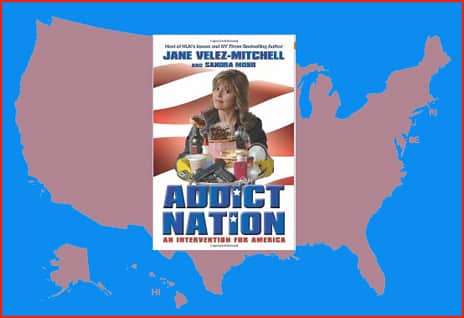 Addict Nation: An Intervention for America is a book which examines the country's leading addictions. Not surprisingly, food addiction is #2. (The other most prevalent addictions are prescription pills, crime and punishment, shopping, and technology.) What do the authors say about food addiction?
Millions of Americans have been self-medicating with fat and sugar for so long the activity has become a standard of living. As a result, our country is suffering from a mind-blowing obesity crisis… We're fat! Our kids are fat! The situation is making us miserable, sick, unattractive and costing us a fortune.
One of the authors is a television journalist who hosts a nightly segment of CNN's Headline News called "Issues with Jane Velez-Mitchell." One of her previous books was titled iWant: My Journey from Addiction and Overconsumption to a Simpler, Honest Life. The memoir was reviewed by B. Farfan, who enumerated the addictions Velez-Mitchell has overcome: "alcohol, cigarettes, work, shopping, food and sugar." This blogger relates how the media star broke her vow of anonymity, which is of course one of the requisites of the classic 12-step program. But Velez-Mitchell sees an addiction epidemic in full force, and was moved to do what she could to prevent others from going through the hell that she went through. Farfan adds,
So while most of the "Biggest Loser" audience thinks they are watching obese contestants struggle with physical workouts and emotional breakdowns, what they're really watching is the individual struggle to break an addiction to food as a drug of choice.
Addict Nation's co-author, Sandra Mohr, is a documentary filmmaker who also worked with Velez-Mitchell on her other published books. Their latest collaboration was covered by Publishers Weekly, whose reviewer mentions the "no-holds-barred" style characteristic of Velez-Mitchell's public persona:
Drawing from her own life, the author illuminates how the government, private sector, and media (she never slips into irony) justify, romanticize, and promote addictions — essentially becoming "pushers." … The woman knows her facts, and her text is stuffed with statistics and anecdotes, but a few of her ideas, and her condescending tone, may turn some readers off.
Readers do get turned off by reminders of things we all wish were not true. No one wants America to be in the midst of a childhood obesity epidemic. Of course, many people do not realize how their own actions contribute to this epidemic, but that's a subject for another day. The possibility of readers being upset is familiar. We have quoted Dr. Robert Pretlow on this topic before:
Comfort eating and the notion that overweight kids may be addicted to the pleasure of food is an unpopular paradigm. Many healthcare professionals and parents are offended by the mere suggestion of this…
The authors of Addict Nation believe that obesity is the biggest health issue faced by the nation, and one that affects every aspect of our lives. They ask,
Do we really want a nation filled with citizens who are overwhelmingly obese, drug addicted, hooked on sex, criminally minded or drowning in debt? The choice is ours. Addict Nation tackles the issue of cultural addictions and promises to shine a light on those who would profit off of our misery.
Your responses and feedback are welcome!
Source: "Top 5 Addictions in the U.S," AddictNation.org
Source: "About the Authors," AddictNation.org
Source: "Addiction On TV," HCIBooks.com
Source: "Addict Nation: An Intervention for America," Publishers Weekly, 02/14/11
Cover image of Addict Nation used under Fair Use: Reporting.