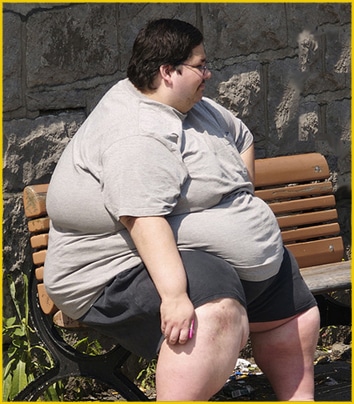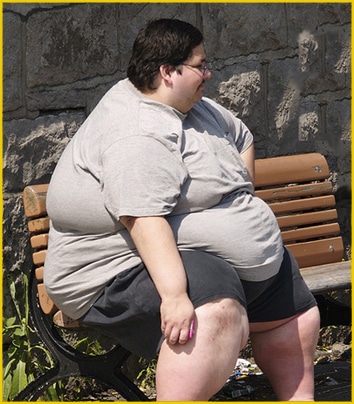 We have been exploring the different kinds of surgery designed to help an obese person lose weight by having part of their stomach either removed or shut off, and the other bits reconnected in different ways.
The various weight loss surgery (WLS) procedures each have their advantages and disadvantages. The vertical banded gastroplasty (or stomach stapling) used to be the hot item, even though the American Medical Association characterized it as a "severely dangerous" operation. Plus, the patient could just go ahead and overeat, and stretch the remaining pouch of stomach back to a larger size. The results were not optimal in most cases. Nowadays, some other procedure would probably be recommended as a first choice, most likely either gastric bypass or Lap-Band® surgery. When gastric bypass surgery works, it really works. It also has a fairly high weight regain rate.
Nothing is foolproof, and no matter what procedure is used, there can always be an unforeseen development. Some staple or clip can always come loose. More surgery might be in the cards. Or it might be that a sequence of operations was planned from the beginning. The post-op patient has to be very, very good and adhere to a very strict program for the remainder of his or her life, and who among us can do that?
If the weight loss is extremely successful, the person can look forward to more surgery, to remove the leftover excess skin. Even when the whole program works like a charm, the person apparently develops intolerance to a wide range of foods, and is prone to constipation, faintness, thinning hair, vomiting, flatulence, and a number of other conditions that could be detrimental to a person's social life. That's kind of sad, considering that many people undergo this surgery in the hopes of improving their social life.
Nevertheless, many post-op patients are very happy. Visiting a website called Former Fat Dudes!, we learn that playful members of the bariatric community choose such names for themselves as Melting Mama, Recovering Fatty, and Beariatric. A fellow called McNee speaks feelingly of an online discussion group he discovered, which turns out to be therapeutic in itself. He recommends the forum at BariatricTV, calling it "support…for folks who have had or are looking in to weight loss surgery. It's a small, but growing group of some very great folks."
At the time when he wrote that, McNee was about one week post-op. He believed that having the surgery would help erase the word "obese" from his medical records and life. McNee is currently two years post-op, and faced with an interesting situation. He aims to set up shop as a nutritional counselor, but fears that potential clients will feel that he lacks credibility. People tend to regard WLS as taking the easy way out, and since he lost his weight through surgery, why should they pay attention to what he says about nutrition? But he is going ahead with it anyway. At McNee's site, a lady known as Gastric Bypass Barbie commented,
I think you and I share the philosophy that life is to be lived to the fullest. Morbid obesity robbed us of that opportunity; bariatric surgery gave it back.
Some time ago, Dr. Pretlow heard from an obese pediatrician who at the age of 50, after decades of futile effort to control his weight, had finally opted for the extreme solution of bariatric surgery. What else did this professional colleague tell Dr. Pretlow? That he would love it if none of his own patients, or for that matter, any other kids, would end up choosing surgery. He clearly sees it as a last resort.
Dr. Pretlow himself would very much prefer that a residential treatment program be tried first, because food addiction is the issue, and successful recovery from addiction can be achieved without the life-changing side effects that accompany surgery. We need to be looking at things through the Psychological Food Dependence-Addiction Paradigm "lens" to create real change. A lot of the other things that people are worrying about are just distractions. As Dr. Pretlow said,
We are selling the souls of our children in order to obtain funding for mostly useless obesity research, which makes funding food companies happy, namely genetics, metabolism, nutrition, physical activity, population studies, bariatric surgery, and obesity drugs.
Your responses and feedback are welcome!
Source: "Flashback: Go ahead, call me obese. I dare ya," FormerFatDudes.com, 05/05/10
Source: "Obesity Prediction Not So Ridiculous, Thanks to Food Corporations," Childhood Obesity News, 01/05/11
Image by Colin Rose, used under its Creative Commons license.