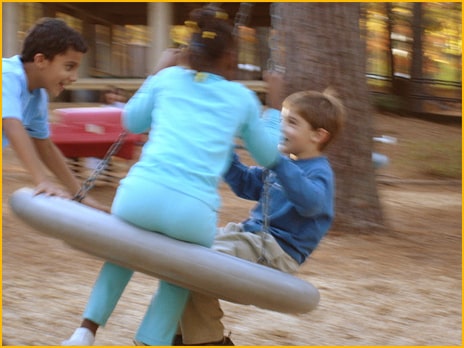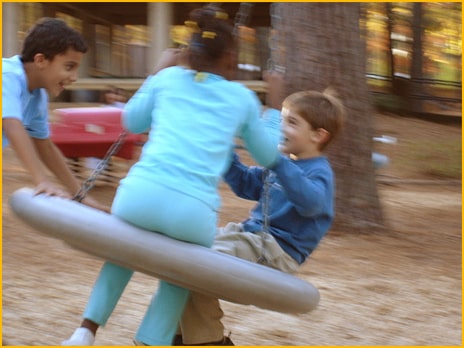 "Our fitter kids are the envy of the planet." That statement is quite a brag, a real attention-getter, and the title of a piece by Emma Palmer. Let's see how they back it up. And who are they, anyway? They are the schools of South West Essex, formerly known as the Kingdom of Essex, now a county within commuting distance of London. Compared to people in other parts of Great Britain, the inhabitants are more likely to be employed and relatively prosperous, and they think they have found the solution to childhood obesity.
In such towns as Thurrock and Basildon, a total of 163 elementary and middle schools are involved in the "21st Playground Scheme." (To Americans, that might sound odd. But in England, a scheme is more of a plan than a plot. The word doesn't have that little tinge of negativity.) It cost £3 million (close to $5 million in U.S. dollars), and the locals seem to feel that they are getting their money's worth. In fact, they believe that this program could change school playgrounds worldwide. The purpose is to get school children to be more active during the academic day, and apparently it's working. Palmer says,
Now, a new independent report compiled by two of the country's top health chiefs shows the playground scheme has seen astonishing results — with almost 15 per cent of pupils in total going from not doing any exercise in their school day to becoming extremely active.
The playground facilities include tire swings, "multi skill and stage areas," problem solving equipment, assault courses, and climbing walls. The various objects lend themselves to all kinds of uses, and teachers observe that some students invent their own games. They are very happy about the quality and quantity of participation inspired by the equipment. It was designed and installed by Education and Special Projects Ltd. (ESP), a company based in Lancashire. (As of the publication of this post, its website was under construction.) The ESP people also trained teachers at every school, on how to get the best use out of the various types of equipment. Managing director Andrew Wood told the reporter,
We showed them how the equipment could not only be used during break times, before and after school, and during PE lessons, but also as part of the national curriculum… We gave them the skills to use the equipment as part of maths classes, as a fun way for pupils to take part in problem solving exercises etc… I've had calls from all over the country and even America, to take the scheme to them. It's been phenomenal.
The company also commissioned a study (carried out by Leeds Metropolitan University and Roehampton University) to discover if activity levels were improved, and whether obesity will be prevented. So far it looks good, but it may be too soon to tell. The kids may be getting more exercise, but in another part of Britain, somebody else has been busy proving that exercise doesn't have any impact on obesity.
But… exercise has an impact on stress (lowering stress levels). Stress has an impact on obesity (raising obesity levels.) So, indirectly, anything that reduces stress will also reduce obesity. One of the big problems in any schoolroom is maintaining the optimal level of alertness in students. You can't teach kids who are antsy and hyper, but you don't want them nodding out, either. Vigorous exercise seems to be beneficial to either condition, promoting balance. The teachers feel that the kids are concentrating better, and they also report more sociability among the students and fewer behavior problems.
Even if no direct benefits could be shown, exercise offers at least 14 other benefits, enumerated by Dr. Colin Higgs and discussed in our post, "Childhood Obesity and Activity." Elsewhere, Dr. Shannon Weeks gives a short explanation of how regular exercise can help protect the body from the hazards of the seemingly unavoidable fructose that is found in so many manufactured foods:
Why is exercise important? It has little to do with the burning of calories, but rather it improves skeletal muscle sensitivity to insulin (brings insulin down) and reduces stress, thus your appetite decreases. In addition, exercise increases your cells' metabolism so the sugar doesn't get turned into fat.
Getting back to the upgraded playgrounds of South West Essex, someone going by the name of "r6keith" added a comment to the piece:
If you intend to use this idea in America you might need some tractor tyres on the climbing frames, going by the size of some of the American kids Ive seen on the telly.
Thanks a lot, "r6keith"!
Your responses and feedback are welcome!
Source: "Our fitter kids are the envy of the planet," Echo News, 11/12/10
Source: "The Devil in the Fructose," DrShannonWeeks.com, 01/04/11
Image by shawnzrossi (Shawn Rossi), used under its Creative Commons license.