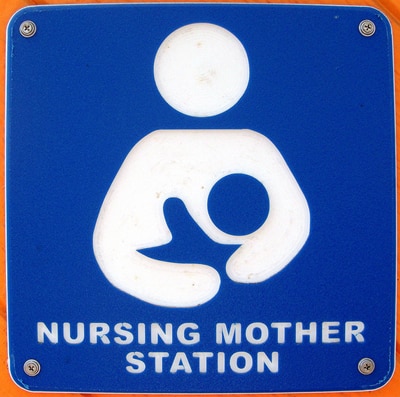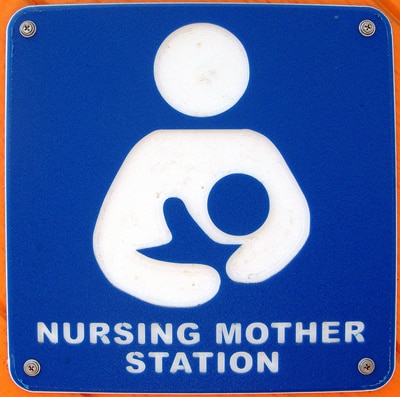 We learn from Lynn Sweet's bio that, "In 1990, she was among the first journalists in the nation to analyze political ads for accuracy."(That is a useful talent, equal to a talent for analyzing hedonic food ads, which tend to have an elevated baloney content.) Sweet is not only the Chicago Sun-Times bureau chief in Washington, she is also a Michelle Obama specialist, authoring a daily column about the FLOTUS (First Lady Of The United States).
Sweet reminds us that the current contentious issue was foreshadowed last September, when Ms. Obama spoke to the Congressional Black Caucus Conference. The president's wife told that group:
… because it's important to prevent obesity early, we're also working to promote breastfeeding… and we know that babies that are breastfed are less likely to be obese as children.
It was not exactly a surprise when this topic of discussion came up again on the one-year anniversary of Let's Move! In their effort to end childhood obesity, Obama's team would like to see all hospitals prepared to allow newborns to stay in their mothers' rooms rather than in a centralized nursery. Which is great for healthy mothers and babies, although it might not be such a good idea for the neonatal ICU to be spread out all over the place.
A non-governmental organization called Baby Friendly USA tries to convince hospitals to expand breastfeeding opportunities for mothers and babies. The group offers certification as "Baby Friendly" which, surprisingly, is only subscribed to by enough hospitals to account for 3% of the births in the United States. Whether this is because so few hospitals deserve the designation, or because they have not applied for it, is not clear.
Apparently, in some places, babies are arbitrarily started on formula without the mother being consulted, which makes breastfeeding more difficult to establish and maintain. Ms. Obama's plan calls for a change there. Also, the Special Supplemental Nutrition Program for Women, Infants, and Children (WIC), will be encouraged to provide new mothers with more information and supplies if they want to give breastfeeding a try.
Michelle Obama's team has discovered a troublesome trend, described by Valerie Jarrett, who is chair of the White House Council on Women:
One of the most common reasons mothers cite for discontinuing breastfeeding is returning to work and not having break time or a private space to express milk. Many studies have shown these types of worksite supports help women continue to breastfeed after returning to work.
It is recommended that the business community should accommodate new mothers who return to work while still nursing. Such women need a clean, secluded place to use their breast pumps and store their milk until they take it home to their babies. To many employers and workers alike, this sounds like a terrible idea, and that is only one aspect of the controversy. Some people, such as Michelle Malkin, are really ticked off because the IRS decided that breast pumps and other lactation-related equipment can be treated as deductible medical expenses for tax purposes.
Then there is Michele Bachmann, one of the many public figures who criticize the "nanny state," implying that the government interferes too much in the lives of citizens. They believe the government should keeps its nose out of such a private matter, refrain from telling women they should nurse their babies, and stop guilt-tripping mothers who didn't and don't plan to.
Actually, the guidelines proposed by the Obama team are not about forcing anybody to do anything. They're about spreading the word that breastfeeding might be the better choice. But here's the irony. There is no "nanny state" about it. After all, a nanny is just the hired help, the mother substitute who feeds a child formula from a bottle. The breastfeeding advocates just want more mothers to consider personally nursing their babies. Not a nanny state, but a mommy state.
Your responses and feedback are welcome!
Source: "Michelle Obama to Promote Breastfeeding as IRS Gives Tax Breaks for Nursing," Politics Daily, 02/14/11
Image by Wha'ppen (Arturo Sotillo), used under its Creative Commons license.