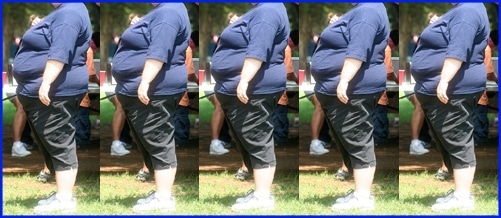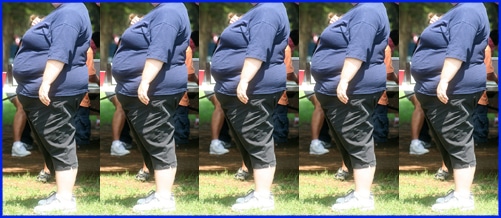 "Is food addiction real?" This question is posed by Jennifer LaRue Huget in The Washington Post, and it is a question relevant to numerous other journalists, health professionals, educators, bureaucrats, researchers, parents across the nation, and, yes, the world. It's also an important question to an ever-growing population of children who are experiencing obesity and all its present and future side effects.
Those side effects are medical, social, and psychological, at the very least. With a moment's thought, anybody could name several more areas of life where blimping up into an unrecognizable caricature of one's former self could have a negative impact. Both childhood obesity and food addiction have received a lot of media attention lately. Public attention is focusing on the evident problem of one and the possibility of the other. Huget says,
But for all the fanfare surrounding food addiction, the condition isn't fully embraced as legitimate in medical and psychological circles. Some argue that our complex relationship with food can't be easily boiled down to an addiction, as so many factors are in play. Others maintain that allowing for 'food addiction' ends up absolving people of the personal responsibility to manage their food consumption. And some experts say the science to support the notion of food addiction remains incomplete.
The journalist was a skeptic until she has encountered Michael Prager, author of Fat Boy Thin Man, who overcame obesity by "treating his addiction as an addiction." This could be an important meeting place between conflicting opinions among obesity experts. Maybe non-believers can be convinced that it's worthwhile to try addiction-type treatment, as long as they aren't compelled to come right out and admit (yet) that there is such a thing as food addiction. In fact, that is one of the three choices in the multiple-choice poll at the end of the article:
Is food addiction a legitimate phenomenon?

*No. It's just another excuse for overeating and being fat.
*Yes. It's clear that some people are addicted to certain foods.
*I don't know, but if treating for addiction helps some people get healthier, that's great by me.
The third option is a very reasonable one. If it works, use it. And it may not work for everybody. The thing is, nothing works for everybody, not consistently. There are always innumerable factors — environmental, genetic, and on and on. One therapy works for some people, another works for others. It makes sense to start with whatever has shown the most success. In the obesity field, evidence keeps piling up that "treating the addiction as an addiction" works for many. (Incidentally, Huget also published a more explicit and very worthwhile article, "Conquering Food Addiction," about Prager's journey.)
The journalist's sources include a recent Huffington Post article by Dr. Mark Hyman, which we also were very interested in. She also mentions the TIME magazine piece by Meredith Melnick, "The Growing Link Between Alcoholism and Obesity." Here's the downlow on that:
Recent neurological research has shown that overeating lights up the same brain pathways as drug use, so it's not surprising that new research from the Washington University School of Medicine in St. Louis found a connection between a family history of alcohol addiction and obesity.
But… it's complicated. This is Melnick's capsule summary of the situation:
So the underlying behavior to use food to satisfy an addictive craving may have always existed, but food manufacturers are now simply more effective at peddling their wares, which in turn informs the obesity rate.
This is a reminder of the Perfect Storm simile, when factors come together that may not have had such an effect by themselves. In these collisions there is a synergy that increases the damage not by simple addition but by multiplication.
Maybe our society is starting to wake up. Of course, people wake up pretty quickly when the economic consequences are pointed out. Start throwing around numbers with dollar signs in front of them, and the public pays attention. Melnick points to an article titled "Obese Workers Cost Employers $73 Billion Per Year." Yikes!
Your responses and feedback are welcome!
Source: "Is food addiction real?," The Washington Post, 01/18/11
Source: "The Growing Link Between Alcoholism and Obesity," TIME, 01/06/11
Image by Tobyotter (Tony Alter), used under its Creative Commons license.