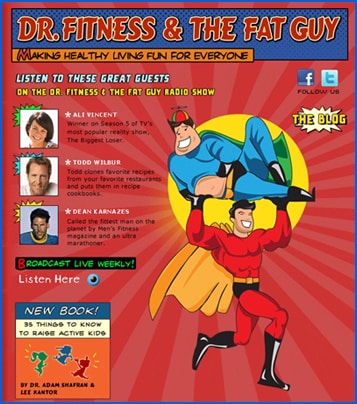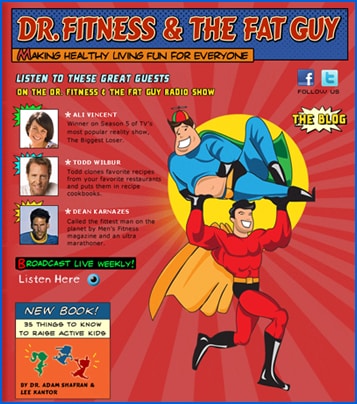 Earlier this month, Dr. Pretlow was a guest on a radio show, where he talked about childhood obesity and his book, Overweight: What Kids Say. So you may be thinking, "Now, the Childhood Obesity News blog returns the favor by promoting Dr. Fitness & the Fat Guy." Well, cut it out. The only reason you're hearing about this today is because these two live up to the promise made in their mission statement,
Making healthy living fun for everyone.
The radio show isn't the only thing going on. There is a blog too, replete with information about obesity and many other health and fitness topics, where the Fat Guy wrote,
The kids seem to intellectually understand that eating healthy and exercising is the way to go but they are addicted to making poor choices — and that's why you have to treat them like you would a substance abuser to get them on a healthier path.
Just so there is no misunderstanding, we're not spotlighting Dr. Fitness & the Fat Guy out of the enlightened self-interest. Absolutely not. We like them because they really seem to "get it," and because of their skill in eliciting answers that lead the listening audience to get it too. And because they believe laughter is the best medicine.
Dr. Fitness is also known as Dr. Adam Shafran, who was "born to be a health and fitness expert." He has treated the sports injuries of many top athletes, and has earned the respect and gratitude of those who accepted his tutelage as a strength and conditioning coach. He writes articles, talks to groups, serves on advisory boards, and interviews celebrities and experts in any field connected with health and fitness. The Fat Guy's alias is Lee Kantor, and he is, among many other things, a radio producer.
We would never set out to gratuitously flatter Dr. Fitness & the Fat Guy just because they are a couple of very intelligent and engaging talk show hosts who had the good taste and discernment to invite Dr. Pretlow to their show. We are fans because they interview people like Dr. David Katz, Michael Pollan, Rory Freedman, and Dr. David Kessler, and because they address such interesting topics as,
'Does Sitting on An Exercise Ball Improve Your Posture?'

'Relax — Your Bra Does Not Cause Cancer,'

and

'Fat Guy's Favorite Healthy-ish Snacks.'
So, to recap, we are not urging you to tune in to Dr. Fitness & the Fat Guy because they spontaneously offered these very kind words:
Overweight: What Kids Say is a must read if you have an overweight child in your life.
We simply think they are very cool, and after listening to the lively interview, you will too. (The interview is a Flash file, so no download time is required to play it.)
Your responses and feedback are welcome!
Source: "Founder of Weigh2Rock Dr Bob Pretlow Helps Overweight Kids," Dr. Fitness Blog, 12/14/10
Source: "About Dr. Fitness and the Fat Guy," Dr. Fitness & the Fat Guy
Screen capture of Dr. Fitness & the Fat Guy graphic used under Fair Use: Reporting.