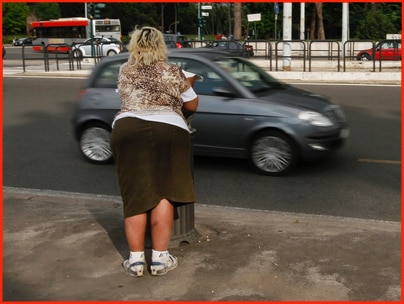 The Council on Size & Weight Discrimination (CSWD) has issued a statement of its position on obesity, discrimination, prejudice, equality, business best practices, false advertising, economic exploitation, negative publicity, and other aspects of the airline seating controversy. The CSWD also suggests several varieties of consumer and citizen activism for those who feel that the airlines need to change their ways.
We have talked about oversized seats in theaters and airplanes, and even about coffins for the obese. And we have also mentioned that Dr. Pretlow's Weigh2Rock website poses monthly questions in a poll. One question that has been asked, and answered by both obese kids and healthy-weight kids, is, "What do you think about making seats wider for cars, buses, planes, & theaters because more people are overweight?"
Each poll suggests multiple-choice answers, and in this case the kids voted 37% in favor, 40% against, because such a move only encourages people to be overweight, and 22% against, on the grounds that it's not fair for healthy-weight people, who must pay part of the cost.
Of course, the poll respondents can add any thoughts they care to in the comments section. An overweight 19-year-old looked back on a school career that included trouble fitting into classroom seats. Another obese teen girl said,
Most of my weight is settled in my butt, so I think this would be a great idea because I can name a handful of occasions where I've nearly been stuck in seats.
A 289-pound teenager wrote,
I think it'd be the nice thing to do — we are people too and want to do normal things.
An overweight 16-year-old girl replied with an episode from her life, when she had been accidentally sat on and squashed by a very obese blind woman. A slim 11-year-old once felt very bad because her obese father, who went on an amusement park ride with her, couldn't fit into the seat. A 16-year-old male, weighing well over 400 pounds, remarked that he has always needed two seats, and a 14-year-old girl wrote of her embarrassment at not being able to fit into movie theater seats, so she had to go to the movies in the next town. A young woman weighing nearly 300 pounds contributed this:
I barely fit the plane seatbelt. It was my whole fear on the way to the airport that I wouldn't be able to fit and would have to ask for an extender. Also, I can't go to amusement parks and ride roller coasters bc most of the seats are too small. I waited an hour in line at Kings Island and had to walk the stairs because I was too big. It was the most embarrassing moment of my life.
On the other hand, healthy-weight girls were brutally forthright about their objections. These remarks came from three different slim young females:
That would be utterly disgusting. Seats are a normal size right now for a reason.

Per-lease! That's the dumbest thing I've ever heard. Smaller seats encourage weight-loss, if people are fat it's their fault and THEY should do something about it. Or maybe people should be forced to pay extra taxes if they are determined medically overweight, or if their children are determined medically overweight.

To be brutally honest, we need to stop accommodating obese people so much… If they just left the seats the same, maybe it will be a wake-up call for some to lose the weight.
A girl who gave her weight as 314 pounds wrote, hopefully with tongue in cheek,
This is fantastic, I used to have to buy two seats for everything. Now I can carry on stuffing without having to worry about extra costs.
A 265-pound boy replied, we also hope, in a sarcastic spirit:
Best thing ever I love being fat now I can gain and gain and gain and be the fattest kid in the world.
Your responses and feedback are welcome!
Source: "Airline Seating," CWSD.com
Source: "Poll #57," Weigh2Rock.com, 02/06
Image by danehav (Robin Danehav), used under its Creative Commons license.