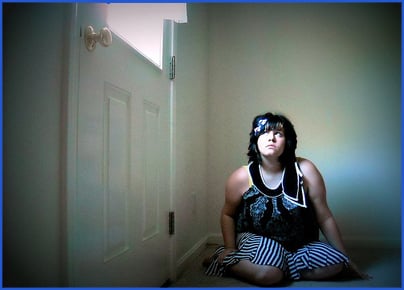 One of the obvious drawbacks of childhood obesity is that it hangs around and becomes adolescent obesity and, eventually, adult obesity. Sure, many people have overcome their propensity to be overweight, and they are heroes. Ruby Gettinger and others have documented their own histories, including the recognition that food addiction was controlling their lives, and what they had done about it.
And how much better it is if the problem never develops in the first place! This is why the Archive page of Dr. Susan Bartell's Girls-Only Weight Loss website is such a treasure. We'll just pick one at random — "Don't Model Yourself After Models." Back in 2006, a major world-class fashion show, the Pasarela Cibeles, made its famous decision to reject skeletal runway models. Dr. Susan says,
The Spanish government realizes that while it is important for girls not to be overweight, the opposite — being super skinny, like runway models usually are, is dangerously unhealthy. And when girls watch those models show off clothes, it sets a bad example and also makes girls frustrated. Some girls even try to get that skinny and develop eating disorders like anorexia and bulimia.
Dr. Susan is a psychologist, consultant, and an award-winning writer. Her collection of insightful and helpful articles is a splendid resource for young women struggling with weight issues. She points out to kids the things they might not have thought about, like, for instance, product placement in the media. It's a good idea for anybody, not just a young person, to stop and consider, "Am I buying this thing just because my favorite actor had one of these in a movie?"
Once a person starts thinking about stuff like, "Why, really, do I buy Coke instead of Pepsi?" or, "Why, really, do I buy Pepsi instead of Coke," you never know what could happen. He or she might move on to think something like, "Why don't I just drink some nice water instead?"
Here is Dr. Pretlow's comment about the book, Dr. Susan's Girls-Only Weight Loss Guide:
Dr. Bartell's book is the first I've seen that deals with the connection between feelings, overeating, and overweight in childhood. She is right on point. Her book contains excellent tips for improving self-love and for coping with emotions without resorting to food.
Tweens are not-quite teenagers, roughly ages 10 to 14, and they have their own set of problems. These are addressed in a fiction book for tweens, Don't Call Me Cookie, by Vanessa Pasiadis. The author earned a Master's degree from the School of Public Health at the University of Pittsburgh. She puts her accumulated knowledge to work as a teacher and health care consultant, and by placing good advice in a framework kids will enjoy, a story.
Twelve-year-old Cookie Lemon wants to be an actress, but meanwhile she's dealing with obesity. With help from a savvy pediatrician called Dr. Max and a wonderful teacher, Ms. Martiss, Cookie not only sets out on a better path, but brings along her best friend and even her parents. The book has been endorsed by Children's Hospital of Cleveland and other worthy institutions.
In a print magazine called The Hermenaut we have found a terrific article called "Fatty Fiction." The author, Lynn Peril, re-examined half a dozen books that she had read as an overweight young girl. They were published between 1955 and 1982, and the main characters were always girls who were unhappy and/or unpopular because of their excessive weight. Even worse, Peril says the girls in the young-adult novels were passive and unwilling to fight back when bullied. Generalizing about this sub-genre of fiction tailored for teens and tweens, Peril says,
The plot hinges on her struggles to lose weight, and the denouement is reached when the young girl achieves her goal. Along the way, her emotional and social problems are resolved, the result (overtly or not) of her weight loss. Often there is a moralistic bent to the story, urging the presumably porcine young readers to diet.
Peril says that fatty fiction went out of style when anorexia nervosa became a bigger problem than obesity. Now that the polarity has reversed again, what is fiction for young girls saying today?
Your responses and feedback are welcome!
Source: "Archive," Girls Only Weight Loss
Source: "Don't Model Yourself After Models," Girls Only Weight Loss, 09/18/06
Source: "Book Aimed at Young Readers Takes on the Important Topic of Childhood Obesity," PRLog.Org, 11/17/10
Source: "Fatty Fiction," Hermenaut Number 14
Image by stars alive (Keirsten Balukas), used under its Creative Commons license.