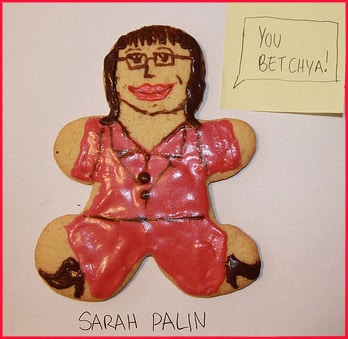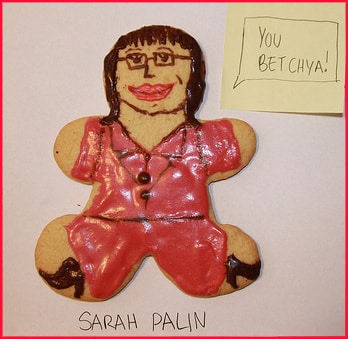 Sarah Palin just can't seem to stay out of the news. Now she has everybody riled up over cookies. But what's a tea party without cookies? The state of Pennsylvania has some new guidelines in the pipeline aimed at reducing the childhood obesity rate. We learn from an ABC News story attributed to three writers (Taylor Behrendt, Rob Nelson, and Mary Bruce) that Palin had visited a private school in Bucks County, PA, and brought along many dozens of cookies to share.
Apparently, there were at least two points she wanted to make. One was about how lucky the kids are to be in a private school, where they are not subject to the unreasonable dictates of a "nanny state run amok." This was a protest against proposed new rules against bringing in sweet treats for birthday celebrations and the like. Palin felt the urge to "shake it up a little bit." At the federal level, things are still in a state of flux. The article says,
The Senate passed the $4.5 billion Healthy, Hunger-Free Kids Act in August… The legislation currently awaits action in the House. Supporters of the bill said it would significantly improve the nutritional quality of school lunches by upgrading menus and banning certain junk food from lunch lines.
The other thing on Palin's mind, when she spoke at the Plumstead Christian School's fundraiser, was a question she wanted the kids to take home to their parents: Who should be the boss of what children eat? Their own parents, or the government?
Of course, this reasoning neatly sidesteps the fact that no matter how restrictive any school board becomes about what can be served, vended, or brought in by students, the kids spend a lot of time not being in school. On their own time, parents can be as strict or as lax as they want. The freedom to eat cookies is not really endangered.
As it turns out, the terrible rules that Palin denounced are not quite as she had characterized them. This is an ancient technique, practiced by many politicians, called setting up a straw man. The object is to score points by vehemently attacking an imagined threat that never existed in the first place.
Scott Kraus of The Morning Call interviewed a spokesperson from Pennsylvania's Department of Education, and learned that childhood obesity is not in danger of disappearing either. Steve Weitzman told the reporter that nobody is talking about a ban on anything. Kraus says,
For nearly six months, the state Board of Education has been weighing new school nutrition guidelines that encourage healthier food choices, but they wouldn't create any no-cookie mandates.
Does this controversy remind you of something? We have talked about how hard the medical profession resists the idea that the obesity epidemic is caused by food addiction. Dr. Pretlow calls it the Medical Science and Food Addiction Barrier, a blockade made of denial. We have quoted in earlier posts from Overweight: What Kids Say. Remember this part?
Comfort eating and the notion that overweight kids may be addicted to the pleasure of food is an unpopular paradigm. Many healthcare professionals and parents are offended by the mere suggestion of this. Healthcare professionals have walked away from me in mid-sentence when I attempted to discuss this with them. Friends have become upset when I explained the notion to them. One gal indignantly grabbed a cookie and ate it in my face! No one wants to hear the message.
Your responses and feedback are welcome!
Source: "Cookie Protest: Sarah Palin Calls Pennsylvania a 'Nanny State Run Amok,'" ABCNews, 11/10/10
Source: "Pennsylvania says Palin crumbled cookie policy," The Morning Call, 11/10/10
Image by kevin roberts, used under its Creative Commons license.